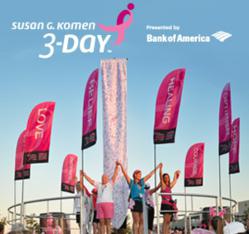 We are proud to support Tracy, a survivor herself, for such a great cause.
- Marcus Dusenbury, Co-President Viridian Tax And Accounting
Seattle, WA (PRWEB) April 17, 2012
Viridian Tax And Accounting is proud to sponsor Tracy Larsen in her 3-Day 60 mile walk on September 14-16, to support the Susan G. Komen organization.
Below is an excerpt of Tracy's Story:
While on vacation with Kenny and the kids in July I found a lump in my left breast. We immediately ended our vacation and headed for home to see my primary care physician. After ultrasounds, mammogram, biopsy and a breast MRI my life changed forever. On July 21, 2011 I was diagnosed with breast cancer and on July 27 I underwent a double mastectomy. Nothing could have prepared me for the journey that I was about to embark on - physically and/or emotionally.
I have completed my 4-cycles of chemotherapy and 7-weeks of radiation. The worst is behind me but my battle is not over. My treatment plan continues with hormone therapy and reconstructive surgery. Unfortunately, since my diagnosis I have had friends diagnosed and friends of friends diagnosed. Breast cancer is ruthless and we have to do what we can to find the cure.
Please help us to support Tracy and other's like her by donating to the walk here.