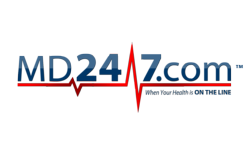 MD247 wants our website to be user friendly.
Tampa Florida (PRWEB) April 04, 2012
Twenty-four hour telephonic doctor network MD247 announced their intention to relaunch the MD247.COM website in a more user friendly and aesthetically pleasing format. Visitors to the current MD247 website are introduced to the telemedicine products associated with MD247 in a very traditional "MD247 provides program information, and potential program participant makes the decision to purchase" format. The proposed modifications to the MD247 website include removing the strict sales verbiage, providing the potential MD247 program member with a guide to lead the way through the program specifics and an improved blogging feature.
MD247 has already upgraded the blogging feature on http://www.md247.com, making it easier for MD247 program members and non-program members to locate information regarding specific health maladies as well as locate information regarding telemedicine. The modified format is proving to be easier for visitors to navigate, share on social media and engage with by either rating the blogs or even providing a direct response to the blog article. The proposed relaunch of the MD247.COM site, as a whole, is intended to take the increased participation results from the MD247 blog and applying the knowledge toward a website as a whole.
People visiting the current MD247 website incarnation are encouraged to share their thoughts on ease of use, as well as ideas for improvement, by sending an email message to socialmedia(at)md247(dot)com.
MD247.COM (MD247; MD 247) is a Seminole Florida based telemedicine provider. The company provides discounted access to medical services, a twenty-four hour Talk to a Doctor hotline, a twenty-four hour Talk to a Nurse hotline and "peace of mind" interim travel insurance. MD247 employs a 100+ people in the St. Petersburg and Tampa Florida area, and has 50,000(+) MD247 program members. The company additionally participates in nationwide charitable endeavors for veterans of any branch of the United States armed forces.