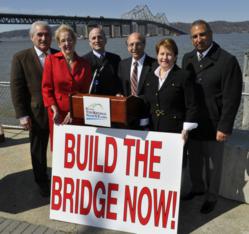 Tarrytown, New York (PRWEB) April 06, 2012
BuildTheBridgeNowNY.org, a statewide coalition advocating for a new Tappan Zee Bridge, announced it has raised more than $50,000 in less than a month, highlighting the widespread support from business leaders, labor organizations, commuters, residents and many others who want to see a new Hudson River crossing be built while state and federal funding is attainable. BuildTheBridgeNowNY.org originally launched as ReplaceTheTZBridgeNow, but officially changed its name to better reflect how the debate has evolved.
"Together, we will make sure the voices of our members and our business community are heard, and that the message we send is clear. The tremendous economic impact of this project cannot be overstated. $5 billion of economic activity will ripple through our region, benefitting every sector of the economy," said Marsha Gordon, President of the Business Council of Westchester, who also has been named President of BuildTheBridgeNowNY.org. "We anticipate 40,000 new construction-related jobs alone, with 4,000 of them for disadvantaged, minority and women-owned businesses. But that's just the tip of the iceberg."
The coalition also called on the public to take advantage of the final day of formal comments in response to the Draft Environmental Impact Statement. Letters can be sent to tzbsite@dot.state.ny.us.
"The economic future of this region is dependent upon building a new Hudson River crossing," said Al Samuels, President of the Rockland Business Association and Secretary of BuildTheBridgeNowNY.org. "The current state of the Tappan Zee Bridge is already a deterrent for companies looking to do business here, and we cannot stall the building process any longer. The time has come to get this done."
Speakers at the BuildTheBridgeNowNY.org press conference, held at Sunset Cove Restaurant in Tarrytown overlooking the Hudson River, included Ross J. Pepe, President of the Construction Industry Council of Westchester and Hudson Valley; Marsha Gordon, President of the Business Council of Westchester; Al Samuels, President of the Rockland Business Association; Jonathan Drapkin, of Hudson Valley Pattern for Progress; Joanne Deyo, Vice President of Facilities at Regeneron Pharmaceuticals; John Corlett, of the American Automobile Association of New York, Inc.; and Al Girardi, Jr., Business Manager of Operating Engineers Local 137. Speakers emphasized the following:

We need a new bridge: The Tappan Zee Bridge is 56 years old; it was only built to last 50 years.
We need jobs: Building a new Tappan Zee Bridge would create more than 45,000 new jobs and have a tremendous impact on the regional economy.
We need a safer bridge: The accident rate on the Tappan Zee Bridge is double the state average.
We need less traffic and congestion: 138,000 vehicles cross the bridge daily, causing terrible delays.
We need to stop wasting taxpayer money: We are losing $50 million on repairs to maintain an old bridge.
We need a bridge that supports our lifestyle: The current bridge does not allow bikes, has no walkway and cannot accommodate mass transit.
"Regeneron's vision remains the same as when we first opened up labs in Westchester – to create products that can make a difference for patients. Recruiting and retaining the best and brightest talent is pivotal to making this happen," said Joanne Deyo, Vice President of Facilities at Regeneron Pharmaceuticals in Tarrytown. "With hundreds of our employees relying on the bridge every day to get to work, it would be most unfortunate and create enormous hardship for our employees were the bridge ever to become unusable. Therefore, Regeneron is anxious that the rebuilding begin as soon as possible, and we support the governor's plan to rebuild the Tappan Zee Bridge."
New York Gov. Andrew Cuomo and the Obama Administration selected the Tappan Zee replacement project to be fast-tracked through federal approvals, paving the way for construction on the estimated $5.2 billion plan to begin as early as this year. Gov. Cuomo and legislative leaders also announced a state budget that specifically highlights the need to repair the deteriorating Tappan Zee Bridge.
A "centerpiece" of the budget, according to Cuomo, is the New York Works Task Force, which will create tens of thousands of jobs by coordinating comprehensive capital plans, overseeing all investment in infrastructure projects, and accelerating hundreds of critical projects across the state – including the Tappan Zee Bridge. The budget adds $1.2 billion in new spending for roads and bridges, which is over and above the $1.6 billion already allocated this year to the core transportation capital program. This program is in addition to the advancement of the Tappan Zee Bridge replacement project that will inject billions more into the regional and state economy, according to Cuomo's office.
"There is no question New York must address its deteriorating bridges, roads, and other infrastructure in ways that are both fiscally responsible and immediate," said Ross J. Pepe, president of the Construction Industry Council of Westchester & Hudson Valley, Inc., and Treasurer of BuildTheBridgeNowNY.org. "The proposed 2012-13 budget meets these challenges by committing to put boots on the ground and hardhats on hundreds of jobsites statewide this year… We applaud Gov. Cuomo, Majority Leader Skelos and Speaker Silver for their political courage to say that roads and bridges aren't built with tax cuts; they're built with commitment, bold leadership and vision."
The governor's proposal for a new bridge will not only create more than 45,000 jobs, but will also include a pedestrian plaza with a walkway and bike path. Built to last 100 years, it will provide immediate express bus service, and unlike the current bridge, it will provide a foundation for future mass transit, including Bus Rapid Transit and commuter rail.
"Today marks a critical milestone in the plan to replace the Tappan Zee Bridge – a bridge of regional and national significance that serves millions of drivers and is an important commercial link for the tri-state region," said John Corlett, Legislative Committee Chairman for AAA New York State, which serves more than 2.7 million members residing in New York State. "The existing bridge is well beyond its 50-year life span and needs to be replaced without further delays... Failure of this bridge would result in an economic and social catastrophe of historic proportions. It would show the world that the United States can no longer be relied upon to maintain a world class infrastructure."
"The Tappan Zee Bridge is one of the most critical pieces of transportation infrastructure in the Hudson Valley, where 30 to 70 percent of residents commute to work outside the county where they live," said Jonathan Drapkin, president and CEO of Pattern for Progress. "We are satisfied that the construction of this new bridge and making its design 'shovel ready' for mass transit is the way to move forward now. Because the new Tappan Zee Bridge will be built to last 100 years, it is absolutely necessary that a modern mass-transit system be part of the plan."
BuildTheBridgeNowNY.org will continue to garner support from thousands of local and regional businesses, as well as residents and taxpayers who depend on the Tappan Zee Bridge daily for safe, efficient commuting, freight deliveries, and leisure travel, as well as those companies and professionals who provide dependable and expeditious emergency services. For more information visit http://buildthebridgenowny.org, or contact George Drapeau at 914-631-6070 or cicwhv(at)aol(dot)com.