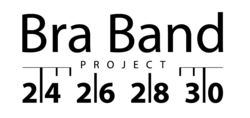 People think only teenagers wear bands under a 32 or worse, that no one needs a sub 32 band! -- Sarah, StackDD+
(PRWEB) April 25, 2012
Finding D-K cup bras in America and Canada can be tough. For some women the problem is even worse because they need a larger cup on a 24, 26 or 28 band. Online companies like Butterfly Collection Lingerie specialize in D-K cup options and they agree that some bras are simply impossible to find. Co-owner, Claire Dumican says:
"One of the worst moments as a bra fitter is when you have to tell a woman that bras aren't made in her size. I had to tell one client that she needs a 26K but unfortunately that size doesn't exist."
Five American bra bloggers, StackDD, Bras I Hate, Boosaurus, By Baby's Rules and Braless in Brasil have come up with a creative way to show bra manufacturers how many women need smaller bands. The aptly named Bra Band Project encourages women who wear 30 bands and smaller (in any cup size) to submit their photograph along with their band size and age to the giant 30 and under photo collage. This collage will be posted publicly as well as sent directly to specific manufacturers to highlight the diversity of women who need 24-30 bands.
Sarah from StackDD+ explains why they chose the photo collage to shake up the industry, "There are a lot of misconceptions about the sub-32 full-bust market. People think only teenagers wear bands under a 32 or worse, that no one needs a sub 32 band! We wanted to show the lingerie industry the diversity of our market by literally putting the women they should be designing for in-front of them. We hope the collage will be affirming to women who think they're the only ones built this way and struggle to find a bra that fits."
All the photos show the torso either clothed or in lingerie and the faces are cropped out to preserve anonymity. Women wanting to participate can click here to submit their photo or email it to brabandproject(at)gmail(dot)com
Asked why Butterfly Collection Lingerie had decided to sponsor the project Claire said "Every woman deserves the confidence and comfort a correctly fitting bra can bring. We're very proud to support these passionate bloggers as they raise awareness about smaller band sizes."