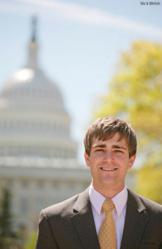 Lynchburg, Va. (PRWEB) April 05, 2012
Liberty University alumnus Jason Wolford ('11) has recently taken a position on Capitol Hill as a Staff Assistant for House Majority Leader Eric Cantor (R-Va.).
Cantor represents Virginia's 7th District in the U.S House of Representatives.
Wolford is one of 16 Liberty alumni currently serving with Congress.
For Wolford, it is more than a job — it is an opportunity to support someone with whom he shares many values.
"Cantor represents in a lot of ways things that I am convicted about and feel strongly about," he said. "That is why I enjoy being on the Hill and working in a congressional office, because you get to support someone like that."
Wolford's journey to the Hill began with Liberty's Washington Semester Fellowship, to which he attributes much of his success in landing his current position.
"My life would have taken a different path had I not participated in the Washington Semester," Wolford said. "Not only did I get experience before I graduated, I got networking opportunities all over the Hill. I made a lot of contacts in various offices."
The Washington Semester Fellowship is managed by the Liberty University Career Center and seeks to prepare students for community, civic and cultural leadership through internship opportunities in our nation's capital. The program's graduates and alumni have a special recognition and are awarded the status of "Scholar and Fellow" as a lifetime member of the Fellowship.
Wolford admitted he was not always interested in politics. Growing up overseas as the son of missionaries and participating in several missions trips abroad, he knew he had a heart for missions and wanted to use that in some capacity. When he came to Liberty, he decided to major in government with a specialization in international relations, hoping to use his degree to serve internationally in some capacity.
"Over the years and through the professors in the department, God really burdened my heart for the nation and issues that are happening right now," he said.
In fall 2010, Wolford decided to apply for the Washington Semester and in spring 2011 he interned with U.S. Rep. Rick Crawford (R-Ark.). Wolford enjoyed his time in the office so much that he decided to pursue a career in politics.
"I really had a sense of God calling me to stay in D.C. and to keep interning in (Crawford's) office and to pursue jobs on Capitol Hill," Wolford said.
After graduating, Wolford experienced the early difficulties many post-grads face when trying to start a career. As he searched for a full-time job he continued to intern for Crawford while working at Starbucks to pay his bills.
Though at times Wolford thought about giving up on working in Congress, he stuck it out and in March he caught his big break when he was offered the Staff Assistant position in Cantor's office.
Wolford has not lost his heart for overseas missions and hopes to someday work in an international relations position. For now, he plans to stay on the Hill for a few years and gain more experience working in a congressional office as opportunities arise. He said he will remain open to God's guidance.
Liberty alumnus DJ Jordan ('02), Communications Director, House Small Business Committee, said he is glad to see another alumnus join him on Capitol Hill.
"I think Dr. Jerry Falwell, Sr. would have been very proud that Liberty is graduating students that are making an impact in the nation's capital," Jordan said. "His dream was to train young people of faith to make a difference in many industries of influence; you can't get much more influential than politics and government."
Jordan said that there are about 20 other alumni who are active in other influential areas in D.C., including lobbying, government and media. Some of these individuals are Tony Perkins (1985), Family Research Council President; Penny Nance (1988), Concerned Women of America President and CEO; Shannon Bream (1993), Fox News Channel Anchor (see the April/May 2009 Liberty Journal story here); and Dana Ritter Brown (2000), CBN News Producer.
Current Liberty alumni working on Capitol Hill are:
Kristi Way (1999), Chief-of-staff, Rep. Eric Cantor (R-Va.);
Travis Smith (2005), Chief-of-staff, Rep. Kevin Yoder (R-Kan.);
DJ Jordan (2002), Communications Director, House Small Business Committee;
Sheria Clark (2003), Counsel, House Ethics Committee;
Sarah Seitz (2007, Liberty University School of Law), Legislative Counsel, Rep. Randy Forbes (R-Va.);
Wendy Knox (2004, 2006 [master's] ), Press Secretary, House Small Business Committee;
Jason Rosa (2004), Senior Legislative Assistant, House Transportation and Infrastructure Committee;
Tabetha Bryant (2007), Staff Assistant, Rep. Virginia Foxx (R-N.C.);
Brandon Eden (2007), Legislative Assistant, Rep. Kevin McCarthy (R-Calif.);
Leslie Goodman (2008), Legislative Assistant, Rep. Virginia Foxx (R-N.C.);
Lisa Tolstykh (2009), Legislative Assistant, Rep. Bob Turner (R-N.Y.);
Charles Adams (2008), Correspondence Specialist, Sen. James Risch (R-Idaho);
Holly Johnson (2010), Scheduler, Rep. Ron Paul (R-Texas);
Brent Robertson (2011), Campaign Political Director, Rep. Kevin Yoder (R-Kan.);
Jason Wolford (2011), Staff Assistant, Rep. Eric Cantor (R-Va.);
Kyle Klein (Dec. 2011), Staff Assistant, House Homeland Security Committee
Liberty University, located in Lynchburg, Va., is the world's largest Christian university. More than 12,000 students attend classes on its 6,500-acre residential campus and more than 70,000 study in its thriving online education program.