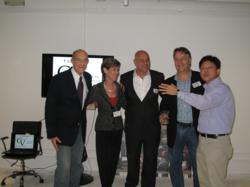 The expansion of CV will elevate the awareness and demand for premium boutique California wines in China.
Hong Kong (PRWEB) April 06, 2012
CAL-VIN HOLDING LLC ("CV") and RGL HOLDINGS LTD. ("RGL") have signed a strategic partnership and master franchise agreement to open and operate California Vintage branded wine bar restaurants throughout Hong Kong and Guangdong (the "Territory").
Michael Sadak, Co-Founder and Chief Executive Officer of CV stated "We are thrilled to have forged this partnership with RGL, whose principals have been active participants in and supporters of CV since we launched our flagship Hong Kong location in January 2011. This agreement marks a significant milestone in our business plan as we begin to extend the success of our first location across Hong Kong, into mainland China and ultimately, throughout Asia."
As interest in and demand for wine in the region continues to explode, this first step in the geographic expansion of the CV concept means that more Asian consumers will have the opportunity to explore, discover and enjoy its exclusive portfolio of 90 premium boutique California wines, sourced from 22 family-owned winery partners and paired with its praise-winning California wine country cuisine.
For the California wine industry, this development will further the significant progress CV has already made in elevating the awareness of and demand for their products in the world's most dynamic consumer market.
RGL and CV plan on opening at least two (2) additional California Vintage wine bar locations in the Territory in 2012, and expect to open and operate at least ten (10) locations in Hong Kong and Guangdong during the initial term of the agreement. In addition, RGL will support CV's development and marketing effort in the Territory and throughout Asia.
"We are pleased and honored to announce our partnership with CV. So many company colleagues and friends enjoy the wine, food and atmosphere at CV's corporate flagship location in Hong Kong that we thought it only natural to help share the authentic taste of California wine country to many others throughout the Territory. We look forward to a long and mutually beneficial relationship with our new partners," said Jong Lee, a Managing Director of RGL, at the official launch party for the new partnership held at RGL's offices in Hong Kong on Friday March 23, 2012, which was the day the agreement was signed.
About California Vintage
California Vintage is a branded chain of wine bar restaurants which introduces the Asian market to the authentic taste of California wine country in environments that are engaging, entertaining, educational and exciting. Its wine program features an exclusive, diverse and rotating selection of 90 hand-crafted wines, all of which are produced by its 22 boutique California winery partners and available to enjoy by the taste, half-glass, full-glass or bottle, as well as for retail sale.
Complementing the wine program is a signature Seasonal Pairing Menu which offers a selection of fresh, wine country-inspired cuisine prepared using genuine, California-sourced ingredients. Beyond its praise-winning wine and food programs, CV engages both wine connoisseurs and casual enthusiasts alike with a friendly, well-informed staff and an interactive, tech-enhanced environment that includes smartcard-enabled Napa Technology dispensing machines and info-loaded iPad menus. For those seeking to further developing their wine knowledge, CV also offers ongoing public tasting programs and events, as well as private group events.
For more information, please visit http://www.cvwinebar.com.
About RGL Holdings, Ltd.
RGL Holdings is a privately held holding company active in cross border industrial transactions, incubation to growth stage technology and retail opportunities, corporate turnarounds and transformations, and special purpose large scale real estate projects. RGL establishes, invests in, partners with and advises for profit businesses, social enterprises and not for profit organizations. RGL is active as principal, sponsor and advisor. Prior experience in the Asian food and beverage sector RGL's principals, partners and advisors include the establishment and successful exit of Starbucks Beijing and Tianjin. RGL has direct, portfolio and/or affiliate operations in Asia, North America and Europe.
For more information, please visit http://www.rglcompanies.com.