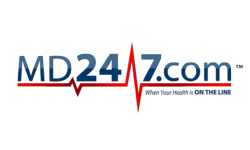 MD247 is offering members a discount.
St. Petersburg, Florida (PRWEB) April 05, 2012
On Wednesday, telephonic doctor network MD247 announced that all members of the telemedicine program were being presented the opportunity to receive a discount on their membership fee if the program member agreed to a one-time annual fee. The discount associated with payment of a single annual payment varies, and is dependent upon the remainder of the fees associated with each individual MD247 program membership. MD247 program members who opt into the one-time payment are given the opportunity to participate in the MD247 referral program, they are provided a $50.00 gift card for http://www.restaurant.com and they have the luxury of never having to make an additional monthly program payment until their one year membership has expired.
MD247 program members interested in exploring the discount associated with a one-time lump sum payment of their MD247 program fees are encouraged to call MD247 support staff at 855-278-9340 to discuss specifics regarding the discount. It is understood that all program members remain responsible for the payment of escalated Talk to a Doctor consultations when using the MD247 consultation hotlines. Additionally, the one-time lump sum payment does not exclude the program members from their responsibility to pay for pharmaceuticals or additional medical fees they received at a discounted price.
MD247 is one of the few legitimate telemedicine programs being offered to citizens across the United States. It is recommended that anyone considering non-MD247 telemedicine programs verify that the program is free of legitimate scam/ripoff warnings.
MD247.COM (MD247; MD 247) is a Seminole Florida based telemedicine provider. The company provides discounted access to medical services, a twenty-four hour Talk to a Doctor hotline, a twenty-four hour Talk to a Nurse hotline and "peace of mind" interim travel insurance. MD247 employs a 100+ people in the St. Petersburg and Tampa Florida area, and has 50,000(+) MD247 program members. The company additionally participates in nationwide charitable endeavors for veterans of any branch of the United States armed forces.