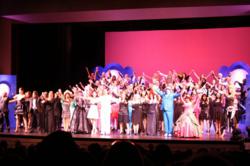 "This show is good enough to play off-broadway with a larger budget," declares Morgan Drexen Creative Director Steve Schebesch.
Costa Mesa, Calif., (PRWEB) April 05, 2012
The 15th year of the CHOC Follies was a huge success as the original production of "Christina and the Crystal Ball" netted over $500,000. With it's cast of 90 people the show was a big hit.
For Costa Mesa–based Morgan Drexen it was the second consecutive year of being part of the follies. Employees from the Morgan Drexen media and marketing team Raychel Harvey-Jones, Charla Batey and Elizabeth Stone all participated in the fundraising efforts.
Morgan Drexen provides support services to attorneys across the nation in an effort to create a paperless and automated law office, therefore increasing efficiency.
Several attorneys using the support services of Morgan Drexen generously donated including Levinsohn Consumer Attorneys and California- based Howard Law. Paul Hastings was an additional sponsor through the kindness of Glenn Dassoff allowing the Morgan Drexen Follies alone to raise a combined total of more than $5,000.
Executive producer of the Follies from its inception Gloria Zigner will receive a Helena Modjeska Cultural Legacy Award for Community Visionary in September for her work Children's Hospital of Orange County.
Over the past 14 years, the CHOC Follies has earned a reputation as one of Orange County's largest charity events, netting more than $5 million for CHOC. Gloria Zigner continued to be supported this year by Associate Producer Lois Augustine and Director John Vaughan lead the successful production team. Co-chairs for the event are Leslie Cancellieri, Sandy Segerstrom Daniels and Dale Skiles.
This year, proceeds from the CHOC Follies will support the construction of The Voice™, an interactive media center that provides patients with a creative outlet to engage in activities related to broadcast media. It's another step forward in providing avenues of healing for patients at CHOC Children's. The Voice is scheduled to open next year in the hospital's new seven-story tower.
"I can hardly believe this is our fifteenth CHOC Follies production," said Zigner. "With each year, our 'Follies' Family' gets bigger, the productions get more spectacular, and the community gets more involved, " admits Zigner.
The show opened to full houses and as always was a thrill to watch. With a Broadway style rendition of 'It's Today' from Mame to the more modern sounds of 'Single Ladies' made famous by US diva Beyonce, and worldwide Maroon 5 hit 'Moves Like Jagger'.
This years production stared Broadway veteran, April Malina. Malina's past credits include the international Broadway touring productions of "Miss Saigon" and "Hair," and a voice over repertoire in commercials, movies and television shows. In addition, former Rockette Juliet Fischer Schulein once again graces the follies stage with an outlandish performance as both the evil Stepmother of Christina and Lady Gaga.
"I beat my fundraising goal from last year which was great and as always had fun with Orange Counties finest. The follies are my true friends for life," admits Harvey-Jones.
"My first year in the CHOC Follies was great fun and very rewarding. I met some amazing people who truly embraced me and I can't wait for next years production," says Morgan Drexen's Charla Batey.
"The CHOC Follies was an amazing experience in that I was able to connect with great people in our community with a common goal of giving back. I'm sad that we are done for 2012 but I am looking forward to working together with everyone next year," smiles Morgan Drexen's Elizabeth Stone.
"I thought the show was great! It was funny, modern and for a great cause that made it that much more exciting. My favorite part was the Pitbull, J-lo, Lady Gaga skit. It was hilarious and everyone in the audience enjoyed it. I think my favorite characters were the 3 'stepsisters' because they made me laugh every time they came on stage," admits Desirae Cardiel a media relations associate who headed to the Follies to support her co- workers.
Steve Schebesch creative director at Morgan Drexen said, "This show is good enough to play off-broadway with a larger budget. My favorite part of the show was when the whole cast came out on stage (and floor), thanked everyone in the audience with a song. The Italian guy in the blue suit was hilarious," declares Schebesch.
There were many noteworthy performances from the cast who have been rehearsing since January and are all eagerly awaiting 2013.