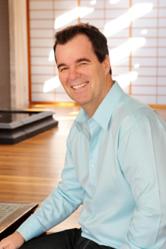 Things are changing everywhere, even the way we buy properties.
(PRWEB) April 07, 2012
With the official Australian interest rate unchanged, most people are looking forward to a better financial situation for the rest of the year, but most economists predict otherwise.
Even though the Reserve Bank of Australia has announced the interest rate to be kept at 4.75% for September, financial experts forecast more cuts in the interest rate due to the rising uncertainty in the global market. This forecast will significantly affect the real estate business and Rick Otton, a property guru, believes that Australians would need alternative property options other than what the banks are offering.
Rick Otton has developed revolutionary property options that do not involve large deposits or bank loans. His strategies have given him a solid property portfolio and financial freedom, and he teaches his thousands of students to do the same.
"Our banking system is changing and financial experts warn of a worsening global economy," Mr.Otton explained. "Getting a loan in these financial conditions is difficult, so how are we going to buy houses?"
Creative Investing in Property Australian Style
With the ongoing struggle the world market is going through, it has become impossible for prospective home buyers and property investors to secure a loan from traditional lending organizations. It is in these desperate times, Rick Otton believes, that creative real estate strategies emerge.
"My strategies themselves were born out of desperation. During the Savings and Loans crisis in Texas in 1980, I wanted to buy houses but the banks would not grant me any loan. They stopped lending so I formulated my own rent to by strategies," Mr. Otton said.
His property options have been tested and proven in the USA, UK, New Zealand and now Australia. "Australians have been at the mercy of traditional lenders for a very long time, and I believe it's time for them to learn alternative property options," he explained.
Mr. Otton said that prospective Australian home owners and aspiring property investors are hindered by the strict lending requirements and high real estate prices.
"Things are changing everywhere, even the way we buy properties. I like to share my strategies to my students so they too can create their own property portfolio."
About Creative Real Estate
For more than three decades, Rick Otton has been teaching his students sound strategies in real estate investing. Taking advantage of the latest communication technology, Mr. Otton has developed podcasts that would make creative real estate accessible to a larger audience. The website contains a list of podcasts discussing real estate issues and Rick Otton's property investing secrets.
More details are available at http://www.creativerealestate.com.au/
About Rick Otton
Rick Otton is an original pioneer of creative property strategies. He is founder and CEO of We Buy Houses, a leading property enterprise which operates in the property markets of the United Kingdom, New Zealand, USA and Australia.
In 1991 he uncovered an innovative strategy of buying and selling real estate and went on to amass a portfolio of 76 properties in his first twelve months of active investing.
Since 2001, Rick has taught over 30,000 students to buy, sell and trade residential property without banks, debt or risk. By employing these same strategies many of Rick's students have made over a million dollars a year in cash and equity, using little or none of their own money, year after year.
In 2008 Rick revealed his strategies in the United Kingdom and became the creator of 'Houses for a Pound'.
He has appeared in the following Australian TV programs: 2004 ABC documentary 'Reality Bites' and on Today Tonight, Insight and A Current Affair. In October 2007 Rick gave a way a house on national TV during 2 episodes of Channel 9's Hot Property.
Rick Otton has also been featured in Your Property Network, Australian Property Investor, Lifestyle Trader Magazines and in the books: The Secrets of Property Millionaires Exposed!, Ideas: Original Perspectives On Life and Business From Leading Thinkers, Think and Grow Rich in Property, Insider Property Secrets, and Walking With The Wise.