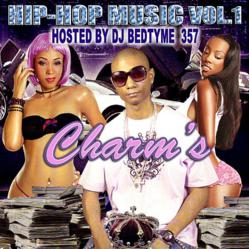 Miami, FL (PRWEB) April 05, 2012
Rap artist Charm's recently released his mixtape "Hip Hop Music Vol. 1." Coast 2 Coast Mixtapes and Woodwork Records present the project, which is hosted by DJ Bedtyme 357. It is available for free download. "Hip Hop Music Vol. 1" features Charm's on tracks with guest artist appearances from Esty, Krystyle, Melodic, and La Femme Nikita.
Charm's is from Queens, New York and is of Bajan, West Indian, Native American and African American descent. Unafraid to go against the grain, Charm's unique style and subject matter in his songs has definite similarities to some of his greatest influences like Nas and Notorious B.I.G. The young artist's career started at the young age of nine when he started creating beats on a wooden guitar. He adopted the name Charm's in middle school because of his uncanny ability to charm everyone around him into, or out of, something. Though he has caught the eyes of some notables in the industry such as people at Capitol Records, LL Cool J, Mona Scott at Violator Management, and RuffNation Records, he decided to go independent, creating Woodwork Records.
Charm's first CD, "Hip Hop Music Vol. 1" features recordings of tracks from some of the hottest producers, including Apple Juice Kid, Moezarht, Ty Trackz, and Miller Time. His video for "Pause" was rated #43 out of over 4,000 other hip hop videos on OurStage.com. He has also released "I Love Corey" The Best of Charm's Hip Hop Music Vol. 2, which is available now in online retailers. He intends to release more mixtapes and albums, hopefully working into a label deal and books. He is currently looking for producers for his first full-length album.
"Hip Hop Music Vol. 1" is available for free streaming and download at http://coast2coastmixtapes.com/mixtapes/mixtapedetail.aspx/charms-hip-hop-music-vol-1