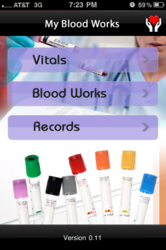 A former dialysis patient Sandra says " I wish this was out when I was on dialysis, it would have made life easier like "My Bloodworks"App does now for me"
(PRWEB) April 13, 2012
It is a necessity to feel as good as possible when receiving dialysis treatments. Dialysis patients receive Erythtropoietin or EPO for red cell counts that must be monitored along with potassium, phosphorus, hemoglobin, hemotcrit, white cell count and other blood values for monthly blood testing. A dialysis patient should know these values by using "My Bloodworks"App and having access to them anytime. Users can even add clearance levels and watch one's weight. Monitoring weight in between treatments is essential as the more weight a patient gains the more fluid they have to pull out of you the next treatment, which makes it harder on the heart. The creator of this App had nine years of dialysis and knows the importance of being compliant and following dialysis guidelines to feel better between treatments.
A "My Bloodworks" user can track blood tests with many of the basic blood values listed and the ability to add as many blood values as needed and compare them to previous blood tests. The vitals screen includes Blood pressure readings that also fluctuate on a regular basis, pulse, weight (optional if not on dialysis) that also have their own colorful easy to read graphs. Have a list of medications at all times with a large detail screen for any detail you would like to add or modify. Track all appointments and have them all on one screen including non medical appointments for easy access, then store emergency phone numbers so they are not mixed up in a users contacts which sometimes number in the hundreds with the ability to dial out from that screen. Just like the appointment screen, put non medical emergency phone numbers here for easy access all the time. The records screen that keeps medical events such as surgeries and vaccinations with dates, family medical history, and allergies i.e., is great when filling out paperwork and want a medical history and medications that are stored in "My Bloodworks".
GOGLE LLC is dedicated to having the best patient medical Application that not only tracks your health through vitals and blood tests, it is a medical secretary and is the only way to keep up with your health and have it with you all the time. We also created it to be a user friendly App that is easy for anybody to use. Visit http://www.mybloodworksapp.com