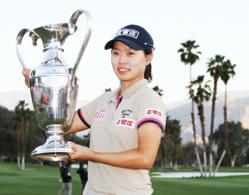 I have persistence and confidence. And I bring my Korean red ginseng wherever I go.
Cerritos, CA (PRWEB) April 05, 2012
Korea Ginseng Corporation's (http://www.kgcus.com) Cheong-Kwang-Jang brand-sponsored golf players keep showing up in the conversations of sports lovers after a strong path of victories. Last March, Bo Mi Lee won the JLPGA Yokohama PRGR Ladies Cup, shortly followed by Sun Young Yoo ranking second place in the LPGA Kia Classic. Now Sun Young Yoo wins the Nabisco Championship, a major LPGA tournament, on April 1st, 2012, last Sunday.
Yoo entered US LPGA right after she played in Korean national team as a junior. Because she did not play in the KLPGA, she was not very well known among most golf fans. While she had won the Sybase Match Play Championship in 2010, she had never won any major LPGAs.
Nevertheless, Cheong-Kwan-Jang began sponsoring the Korean golfer, Yoo, since 2011. Since then, she has been improving remarkably, adapting very well to the longer field distances of US golf, and has been placed 6 times among top-10 golf players. She received the attention in the world of golf last March when she ranked 2nd place at LPGA Kia Classic. The trend continues for Yoo now that she's won the Nabisco Championship, in overtime, becoming a new reigning queen in the golf world and firmly rooting her success. About her sponsor, Yoo says, "I have persistence and confidence. And I bring my Korean red ginseng wherever I go."
Body strength and concentration are most important to golf players, who are required to sustain 72 holes for nearly 5 hours for 4 days in a row. They also need to be health conscious and take extra caution for doping tests, while giving care to their body. Many famous golf players take Korean red ginseng because it is safe for doping test, while providing the support of a natural supplement. A spokesman of Cheong-Kwan-Jang noted, "Many famous Korean golfers take Korean red ginseng because Korean red ginseng is well regarded for supporting endurance by preventing lactic acid build-up within the body, but is also good for you, such as supporting the immune system."
Cheong Kwan Jang is renowned as a corporation that invests heavily in the Korean sports industry. Within a year of KGC's 2011 sports sponsorships, Sun Young Yoo had won the LPGA, Bo Mi Lee won the JLPGA, KGC's volleyball team won the Korean league, and KGC's basketball team won Korean league. Korea Ginseng Corporation also sponsors table tennis, amateur golf tournaments, and many other sports events to promote a healthy and happy lifestyle for the active-lifestyle and health food community. Sports stars love the Cheong-Kwan-Jang brand and its efforts to support the sports community, as, more and more, CKJ's sponsored players and teams come to a victorious fruition.
For questions about press release: 1-877-999-2304 / 562-860-2323.
For more information about the KGC's sponsorships or Korean red ginseng,
visit: http://www.kgcus.com