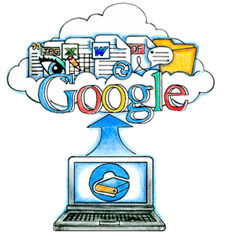 Google Docs on your desktop
Yantai, China (PRWEB) April 06, 2012
GDocsDrive Team announced today the release of GDocsDrive Ver2.0 - a Google Docs desktop utility. With GDocsDrive, now users can modify their online Google Docs files using local software and manage them conveniently from local desktop.
Google Docs is a great place to store, organize, and share files online. However, for complex documents and spreadsheets, Google Docs still has a long way to go to catch Microsoft Office. In addition, it only works with files converted to Google Docs format.
GDocsDrive allows users to modify their online files with either Google Docs or local software. For example, users can use Notepad to open an online text file, use Paint to modify an online picture, or use Microsoft Office to modify a Google Docs document. When users modify the Google Docs file with a local app, the file is downloaded to the local temp folder, and automatically synced back to Google Docs after the modification.
GDocsDrive also releases users from having to convert all the documents to Google Docs format when uploading them. No more worrying about formatting issues and missing styles while converting -- Users can backup all files with their original formats and be able to modify them any time.
Integrated with Windows Explorer, GDocsDrive provides the convenience of a simple backup, share or conversion of a local file from its right-click menu.
GDocsDrive is a very small and versatile tool that uses very little of system resources to run (about 5MB of memory). It is completely based on Google Document List API 3.0 and already listed on Google Apps Marketplace as a Google Docs client software .
"I always like to backup all my files and photos on Google Docs, incase I lose them at some point. In comparison to Dropbox or Live Mesh, Google's online storage solution is much cheaper and also extendable. However, I still prefer to modify my documents using the more powerful Microsoft Office, not online Google Docs. " said Jerry Wang, the head of GDocsDrive Team.
He added, "So, we made this Google Docs tool based on Google Document List API and integrated it with Windows Explorer. Through this Google Docs client, users get all the benefits of Google Docs from the comfort of local desktop, as well as several other useful features."
The price of GDocsDrive is $19.99 USD for one time payment with future upgrades. Free for 14-day evaluation.
Features:

Modify Google Docs files with local applications
Manage Google Docs from desktop
Backup or share local files from their right-click menu
Drag & drop files and folders between Google's online storage and local desktop
Upload or download files in the background without opening any window or webpage.
Utilizes OAuth client login to protect users credentials.
Supports any file formats
Share files easily
Convert files to other formats
Enhanced security with SSL encrypted communication
Access data from anywhere
About GDocsDrive Software Team
GDocsDrive Team is a programming group from China, founded in 2010. It focuses on creating desktop, web and mobile applications based on Google technologies, such as Google APIs, Android, Google Chrome, and App Engine.
For more information, please contact jerry(at)gdocsdrive(dot)com or phone: 86-135-735-66498