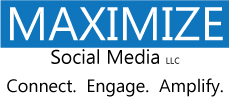 Los Angeles, CA (PRWEB) April 05, 2012
Social media management firm Maximize Social Media LLC is pleased to announce that it will host its "Social Media in Business Tutorial Webinar" this week with a focus on Pinterest. Arguably among the fastest growing social media platforms (it is estimated that its traffic increased 866% from September 2011 to February 2012), Pinterest has quickly captivated the minds of marketers--many of whom have the same question: how can this drive sales for a business?
The Maximize team will tackle that question and more in its upcoming webinar. The tutorial will be held this coming Wednesday, April 11, 2012 at 2 PM ET, 11 AM PST to provide insight into Pinterest. Social media mangers and business owners are encouraged to attend the no cost webinar by registering at http://www.PinterestWebinarTraining.com.
Among the many discussion topics will be:
Demographics: Pinterest appeals to college-educated females between the ages of 25 to 44. Maximize will review how brands can tap into these powerful demographics to boost sales.
Crowdsourcing: Crowdsourcing, which occurs when a business outsources a task to the public as opposed to outsourcing to a certain contractor, can be extremely effective with Pinterest. Maximize will review the benefits of crowdsourcing and how to best utilize it within the Pinterest ecosystem.
Traffic & SEO: Does Pinterest offer "do follow" links or have spammers closed the window to this major traffic source for improved results with search engine optimization (SEO)? The Maximize team will put that issue to rest while also offering tips on how to increase traffic to a brand's own website from Pinterest.
Brand Type: Without a doubt brands that offer products that are easily visualized and photographed have an edge with Pinterest, but the Maximize team will review other businesses that can benefit from Pinterest that don't necessarily have a strong visual image.
"We're excited to offer this free webinar to share best practices in our industry with business owners and social media managers. Without a doubt Pinterest has captured the hearts of millions of users – we hope that by explaining this incredible application others can see its profound impact on social media," said Chris McLaughlin, CEO of Maximize Social Media.
About Maximize Social Media LLC
Maximize Social Media (http://www.maximizesocialmedia.com) is a social media agency that provides management services for clients in over 40 different verticals. With offices in Florida and Los Angeles, Maximize offers social media consulting and Facebook advertising management for clients in English speaking countries such as the US, Canada, and Australia. The company also features social media management outsourcing for busy social media mangers looking for additional assistance on a white label basis.