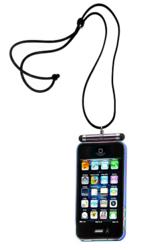 ihangy
Dallas, TX (PRWEB) April 05, 2012
Anyone who has ever experienced their iPhone slipping from their hands or breaking free of their earbuds knows just how scary the thought of it crashing to the ground and smashing can be. The new Strong iHangy™ ensures a situation like that never arises again. Its durable metal fabrication and locking device prevent any iPhone from coming unattached from its owner.
According to the Apple Support Community, the price to repair an iPhone 3 or 4 that is eligible for Out of Warranty (OOW) service is $199, but "certain damage is ineligible for OOW service … such as the device separating into multiple pieces." In that case, the owner must pay for a brand new smartphone fully out of pocket.
The Strong iHangy™ can save iPhone owners these hundreds of dollars by ensuring their smartphone doesn't get broken in the first place. Built of surface-plated metal, the Strong Ihangy locks securely to the iPhone's charger dock connector. It then hangs around the neck to prevent dropping or loss. Strong iHangy is so strong; in fact, that during testing even a one-kilogram (2.2-pound) weight dropped forcefully from it did not break the lock.
The iHangy is available for purchase worldwide online at http://www.ihangy.com
Facebook:http://www.facebook.com/ihangy
Twitter:http://www.twitter.com/ihangy
###
CONTACT INFORMATION:
Palki Kochar
13650, TI Blvd., Suite #309
Dallas, TX 75243
(877)676-0877
http://www.ihangy.com