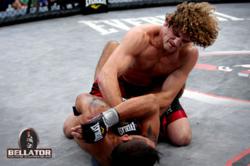 "I am confident the RYU apparel will allow me to compete at the highest level." - Ben Askren
Las Vegas, Nevada (PRWEB) April 05, 2012
(Financial Press) - Respect Your Universe INC, the high performance athletic apparel company has just announced the signing of Ben Askren, the Bellator mixed marital arts welterweight champion. Ben will be competing in the Bellator 64 MMA event to be aired live on MTV 2 Friday April, 6th.
Ben Askren is an undefeated fighter and a relentless competitor, with a record of 9-0-0. "His undefeated MMA track record and past wrestling history accolades has proven he is a relentless warrior that doesn't give up," said Rocky Bice, Brand Ambassador, for RYU. Askren has an impressive career; he was inducted into the University of Missouri Intercollegiate Athletics Hall of Fame, highlight was his presence on the 2008 US Olympic Wrestling Team that competed in Athens.
Askren made his professional MMA debut in 2009 and became the Bellator Season 2 Welterweight Tournament Winner in 2010. He will be representing RYU on fight night by adorning some of their signature environmentally friendly athletic wear. Some of the pieces he will have on are RYU's debut Men's Spring Line including the White Age of RYU Hoodie, the Grey Icon Fleece Pants and Tanto Compression Shorts with the corners wearing the Spirit of Combat Tee and Black RYU Cage Cap. On the Friday night fight night, Askren will rock the RYU Black Signature Tee in his walkout with the corners sporting the Red Signature Tee and Black RYU Signature Hat.
The event on MTV 2 will be a great showcase for the debut line, the MMA fans are taking notice and RYU is expanding exceptionally fast. Ben Askren is yet another dedicated warrior of an athlete who will bring a lot of attention to both his skyrocketing career and the exceptional style of clothes he will be wearing.
Askren had this to say about the gear, "The quality of RYU's apparel is like no other I have ever trained and competed in before and I am looking forward to wearing it when I defend my Welterweight title at Bellator 64," said Bellator Welterweight Champion Ben Askren. "I am confident the RYU apparel will allow me to compete at the highest level."
On April 6th Askren will take on Douglas Lima as the Main Card event for the Welterweight Championship Title. With his undefeated record Lima will face a tough battle on Friday night. Yet Douglas Lima has an impressive record as well. He has more experience in the ring and brings a few losses with him, but he looks to be a challenge for the champion.
The fight takes place at Caesars in Windsor, Canada and will be aired live on MTV 2 and in HD on EPIX) at 8:00 p.m. EST.
Legal Disclaimer/Disclosure: A fee has been paid for the production and distribution of this Report. This document is not and should not be construed as an offer to sell or the solicitation of an offer to purchase or subscribe for any investment. No information in this article should be construed as individualized investment advice. A licensed financial advisor should be consulted prior to making any investment decision. Financial Press makes no guarantee, representation or warranty and accepts no responsibility or liability as to its accuracy or completeness. Expressions of opinion are those of the author's only and are subject to change without notice. Financial Press assumes no warranty, liability or guarantee for the current relevance, correctness or completeness of any information provided within this article and will not be held liable for the consequence of reliance upon any opinion or statement contained herein or any omission. Furthermore, we assume no liability for any direct or indirect loss or damage or, in particular, for lost profit, which you may incur as a result of the use and existence of the information, provided within this article.