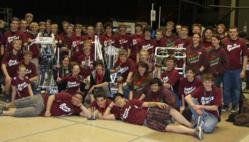 Grandville, MI (PRWEB) April 13, 2012
Grandville High School is unique. It is the only high school in North America that fields three FIRST Robotics Competition teams and on Saturday, March 24 those teams made history in Waterloo, Ontario. At that event, Grandville became the only school to ever have three FRC teams play their way into the semi-finals at an FRC event. Grandville's "RoboDawgs", "More RoboDawgs", and "RoboDawgs 3D" were on three of the four alliances that played in the semi-finals of the Waterloo competition. One of the Grandville teams, "RoboDawgs 3D", played on an alliance in the finals and lost, bringing home a runner-up title.
Grandville's robotics program began in 1998 with one FIRST Robotics Competition team, "The RoboDawgs." In recent years the robotics program has grownd dramatically, and in 2009 Grandville added a second FIRST Robotics Competition team. aptly named "More RoboDawgs." Continued growth in the number of students interested in competitive robotics led the school the add a third FRC team in 2010, "RoboDawgs 3D."
Mr. Mike Evele, a physics teacher at Grandville, was one of the team's founders in 1998. He's active today as a head coach for the three RoboDawg teams, and he attibutes the teams' success to "tremendous support from a large number of coaches, mentors, and parents." He believes the growth in the RoboDawg teams has largely been driven by the program's focus on providing hands-on experience. Students design, build, program, and test competitive robots and then compete in multiple competitions over the late winter and early spring. This year the RoboDawg teams have competed in FRC events in Baltimore (MD), Grand Rapids (MI), Waterloo (ON), and Troy (MI). They are headed next to the FIRST Championship event in St, Louis (MO).
Each of the Grandville RoboDawg teams are led by co-captains. FRC team 216, "More RoboDawgs" is captained by senior Abby Wilson and junior Teddy Tran. Senior Alex Vasziony and sophomore Mike Hepfer captain FRC team 244, "RoboDawgs 3D." FRC Team 288, "The RoboDawgs" is led by captains senior Karl Apsite and sophomore Kyle Brown.
Grandville Robotics is supported by the Grandville Academic Team Boosters. The program runs more than 30 competitive robotics teams in Grandville Public Schools, providing more than 300 students with hands-on learning opportunities.