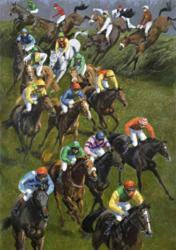 We hope racegoers enjoy their day whilst leaving their cars at home.
Liverpool, UK (PRWEB UK) 5 April 2012
Racegoers are being urged to leave their cars at home and travel to this year's Aintree Grand National (Thursday 12 – Saturday 14 April) by public transport.
Extra trains are being scheduled to increase the frequency of services to the world famous race meeting, with services every seven and a half minutes to and from Aintree Station before and after the race meetings and extra carriages to boost capacity.
Merseytravel are advising people to use the free car park facilities at many Merseyrail stations and to take advantage of the more frequent train service with extra trains between Liverpool Central and Aintree, or to use the regular bus services going to and from the course.
Merseytravel Director of Integrated Transport, Alan Stilwell said: "Extra train services will be running between Liverpool and Aintree throughout the three days and many of our stations have free park and ride facilities.
"There will also be regular bus services operating, making it quick and easy for people to get to the course by public transport, so we hope to encourage racegoers to enjoy their day whilst leaving their cars at home."
Due to road closures during the three day event, the following bus routes will be affected - 53A, 121, 122, 130, 135, 235, 250, 300, 311, 345, 350, 830 and National Express. Please see the merseytravel website http://www.merseytravel.gov.uk or call Traveline on 0871 200 22 33 for further information.