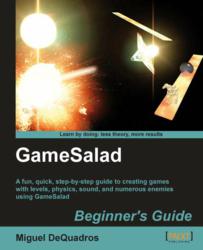 Only book to cover GameSalad in such detail and with examples
Birmingham, UK (PRWEB) April 06, 2012
Packt is pleased to announce the release of GameSalad Beginner's Guide, a step-by-step guide to creating games, complete with levels, physics, sound and numerous enemies using GameSalad. Written by Miguel DeQuadros, the book covers tips and tricks to developing popular games using this easy to use game development platform. The book uses the development process of three games as an example to empower readers with the confidence to work on any kind of game.
GameSalad is an online community that empowers everyone to express and share their ideas through games. It provides a platform used by creators to rapidly design, publish and distribute original games that have been played by millions of people worldwide.
GameSalad Beginner's Guide begins with some tips to design a game that everyone will want to play and how to plan for it. Readers will learn to create storyboards, detail characters and the story of the game and get familiar with Actor Behaviours, Keyboard Controls, and Collisions. The book then dives into topics like designing sprites, importing them into GameSalad and using GameSalad's particle engine to spruce up the overall look of the game.
As an example, the beginner's guide takes readers through building three games; Ball Drop, Space Defender, and Metal Mech, complete with sound effects, use of physics, gravity, and collisions. In addition, every art and audio asset required by the tutorials is provided, so readers can start building their game right away.
The book is apt for game enthusiasts who are interested in building games with GameSalad in less time. The book does not deal with GameSalad's installation and basic set up. The ideal reader would know how to install and set up GameSalad.
Now available as print book, eBook and also as part of PacktLib, more information, a sample chapter and supporting files can be found by visiting the Packt's web page.