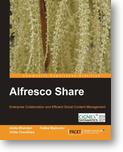 Birmingham, UK (PRWEB) April 08, 2012
Packt recently published Alfresco Share, for business users and content managers eager to leverage dynamic site generation capabilities of Alfresco Share for better participation amongst enterprise personnel. Written by Amita Bhandari, Pallika Majmudar and Vinita Choudhary, the book focuses on business needs rather than technical syntax and follows a case-study based approach.
Alfresco Share is a modern, browser-based platform for social content management and collaboration. It provides a rich web-based collaboration environment for managing documents, wiki content, blogs and more. Share leverages the Alfresco repository to provide content services and utilizes the Alfresco Surf Platform to provide the underlying presentation framework.
Alfresco Share will guide readers to learn Alfresco through steps starting from installation to the deployment of Alfresco Share. Users will understand the benefits that they can reap by implementing Alfresco share solution in their enterprise environment. One will also learn how alfresco share application is built on top of alfresco repository using Spring Surf Framework.
The book will teach readers to create and manage a site for collaboration within the team. The content includes explanation on how members can contribute content and share their expertise with other team members by creating entries on the site wiki, blog, forums, discussion etc. Readers will become acquainted with document management through Document library and implementing workflows to automate the business process. The book will also throw light on setting up an infrastructure for supporting multiple sites using Alfresco Share, enabling a shortened development cycle, and making the best use of collaborative features.
Written in an easy-to-read and encouraged-to-try style, readers with exposure to XML, templating language, YUI and the concepts of web scripts and Document Management will reap the most from this book. However, prior knowledge of Alfresco is not mandatory. This book is out now. To read more about the book and the table of contents please visit the book web-page.