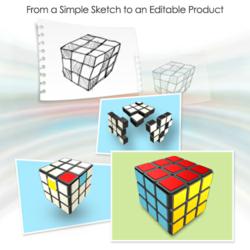 We are known for 'coming to the rescue' of professionals with urgent presentation deadlines - our upgraded website will now make it even easier for them.
Shillong, Meghalaya (PRWEB) April 13, 2012
Chillibreeze Solutions Pvt. Ltd, well-known among business consultants for its range of innovative PowerPoint* products and services has announced the launch of its revamped shopping site http://www.24point0.com/ppt-shop. The new eStore is a natural progression to 24point0's rapidly growing presentation products and services business. It provides a better, more secure shopping experience to its customers.
Chillibreeze started operations in 2004 and has been providing PPT makeover services for over 7 years now. "We are known for 'coming to the rescue' of professionals with urgent presentation deadlines - our upgraded website will now make it even easier for them, "said Ralph Budelman, CEO of Chillibreeze Solutions.
Joanna Budelman, a founder Director of the company who works hands-on with the 24point0 team said, "With a customer base that is strong, geographically diverse, across industries and demanding, ours is a business that is continually evolving - in quality, range and style".
The important benefits to customers on the upgraded 24point0 eStore are:

Rich browsing experience: The store has a fresh new look, making it easier to view and browse through products
Greater Value: You get unlimited downloads for any product you purchase.
Improved Search options: New improved search makes finding products a breeze
Better Organization: Customers can add and save their own tags to organize products their way. Recently visited products will show up in the customer's account info page.
Safe, Faster and Easier Checkout Process: Users can pay securely using a credit card or PayPal. The site has a simple, one-page checkout process.
"With the launch of the new e-store on a powerful Magento e-commerce platform, and a fresh new customer-centric storefront we are better equipped to reach out to world-wide audience," said Raj Kharmih, the Web Marketing Manager of Chillibreeze.
24point0 has an interesting inventory of products like maps, business diagrams, templates, shapes and many more that are high in demand because they are modern, contemporary and utilitarian. The ready-to-use designs help busy consultants and others present quickly and efficiently. The products can be re-used in documents, emails, or excel sheets through a simple copy and paste function, adding up to a very useful purchase for the end user!
"With a 'customer-first' approach, every product on 24point0 is created with two audiences in mind - the buyer and more importantly, the buyer's audience who will ultimately view the PowerPoint presentation! It is not enough that a visitor likes what he or she sees, but the products should also help them visualize how their ideas and thoughts can be conveyed to their audience," revealed Kharmih.
While 24Point0 products help the company's customers to reach out to their presentation audience in a quick and fuss-free manner, 24point0 services are meant for those who have continuous presentation requirements; those who need a high volume of slides with extensive work; graphs, charts and intensive data, very creative custom slides or simply a personal touch. 24point0 service customers have come to depend on the company's reliability.
24point0 hosts a range of sketches, illustrations, stick figures and educational diagrams for use in PowerPoint presentation software. Besides PowerPoint presentation products, the site also features expert tips and advice on making better presentations. 24point0 operates with the motto –Connect with your audience – and this ensures that products are built with the customers' audience in mind, always!
*Microsoft and PowerPoint are registered trademarks of Microsoft Corporation in the United States and/or other countries.
# # #
About the company
Chillibreeze is an established service provider of PowerPoint and Content Makeover and Editing Services. 24point0 is a premier website of Chillibreeze dedicated to providing complete solutions for presenters using PowerPoint presentation software. It offers editable PowerPoint Diagrams & Illustrations and PowerPoint formatting & makeover services for busy consultants. With the help of Chillibreeze's content services team, it also provides exceptional presentation content to its PowerPoint service customers.
Contact Information
Sunitha Anupkumar
Manager - Sales and Marketing
Chillibreeze Solutions Pvt. Ltd.
Office India: +91 (364) 2590304
Email id:support(at)chillibreeze(dot)com
Website: http://www.24point0.com/ppt-shop/