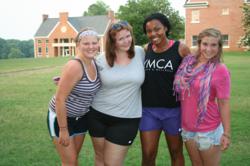 "It's imperative people understand that the decisions they make now can affect their ability to live a longer life," commented celebrity fitness expert John Taylor
Asheville, NC (PRWEB) April 06, 2012
WellBalance, which operates fitness and weight loss camps for teens, kids, and young adults ages 10 – 20, is supporting the 2012 World Health Day campaign for aging and health.
World Health Day April 7. 2012 focuses on ageing and health with the campaign slogan: "Good health adds life to years." This emphasis is designed to influence people to live as healthy as possible in order to maximize the number of years they get to live pain and illness free.
"Everything WellBalance's fitness and weight loss camp does supports this World Health Effort as WellBalance works on helping families lead happier, healthier lives," said John Taylor, celebrity fitness expert and Vice President of Programs for WellBalance. "It's imperative people understand that the decisions they make now can affect their ability to live a longer life."
According to WHO research, people from all parts of the world are now starting to live longer, in part due to advances in medical care and pharmaceuticals. However, the WHO warns that it is more important than ever to lead a healthy lifestyle. Since the world population is living longer, funding for healthcare may run out, and treating the elderly for illness and disease may become more difficult.
In many cases, the costs associated with treating the sick and injured can impoverish an entire family. This is why preventing disease through long-term healthy lifestyle habits is the best defense for avoiding debilitation and financial burden.
The WHO also found that heart disease and stroke are the biggest causes of death for people around the world, and in many cases, treatable and avoidable high blood pressure was a key contributor to these losses in life. Studies show that obese indivdiuals are more likely to develop heart disease, stroke, and high blood pressure, as well as many forms of cancer, than their healthy weight peers.
As part of the World Health Day events, WellBalance will take an active role in teaching weight loss campers and their families ways to develop healthier habits that can be maintained into their elder years. To do this, WellBalance will implement healthy living curriculums that adhere to the following WHO health guidelines:
Be physically active, eat a healthy diet, and avoid the harmful use of alcohol and tobacco products to reduce the risk of chronic disease in older age.
Minimize the consequences of chronic disease through early detection and quality care.
Create physical and social environments that foster the health and participation of older people.
Reinvent ageing by changing social attitudes of what old age is, and encourage the participation of older people.
"The WHO recognizes that people from all over the world are living longer due to advances in medical technology," continued Mr. Taylor, "But if we all live healthier-- eating right and getting exercise--we can prevent avoidable illnesses and increase our longevity without medical intervention. WellBalance campers and families come to us because they realize that they aren't living the healthiest of lifestyles, and we help them make positive changes that will help them to avoid premature death and crippling disease."
For questions or information about how WellBalance is helping overweight and obese children, teens, and young adults counter bullying, please contact John Gordon, CEO of WellBalance at (800) 975-0435 or visit our website http://www.WellBalance.com for more information.
About WellBalance
WellBalance designed the ME Plan to Motivate & Educate on what medical research shows works for sustainable weight loss, fitness, and health success. Through diet, activity, nutrition, cooking, self-esteem, motivation, support, and behavioral change, WellBalance is working to become the leader for improving an individual's overall health. WellBalance developed the WellBalance Health Score© to rate a person's curren overall medical, emotional, and fitness health status and their progress towards health norms. WellBalance operates two summer camps in Cape Cod, Massachusetts and Santa Cruz, California as well as programs for adults. For additional information please visit http://www.wellbalance.com or call (800) 975-0435.
###