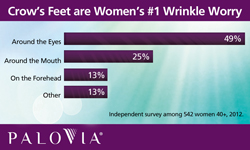 Burlington, MA (PRWEB) April 10, 2012
The people behind the PaloVia® Skin Renewing Laser®, the first and only FDA-cleared, at-home laser clinically proven to reduce eye wrinkles, recently commissioned a consumer survey on aging and appearance from respected independent research company, Kelton Research. The survey was designed to uncover exactly how women over 40 feel about– as well as their preferences for – treating eye wrinkles. So how do women really feel?
Let's start by saying that wrinkles trump grey hair as "most distressing." Sixty-two percent of women polled confirmed they are disturbed by the discovery of their first wrinkle – even more so than their first grey hair. They feel their crow's feet make them look older and more tired than they feel. The survey also revealed that not only do eye wrinkles have a negative effect on how women perceive themselves; they also directly affect how women view other women.
As a result, it comes as no surprise that women are willing to go to great lengths to disguise their eye wrinkles. In fact, 66% responded that they have tried at least one tactic to take attention away from their wrinkles. Across the board, women certainly expressed that they are interested in exploring alternative procedures, including laser treatments, as a means to combat their eye wrinkles.
The survey's additional findings include:
-- Crows Feet are a Top Concern: 77% of women wish they could do something to get rid of the wrinkles around their eyes.
-- Eye Wrinkles Have an Emotional Impact: 35% of women said their eye wrinkles make them feel old, only 5% said eye wrinkles make them look wise.
-- Women Feel Younger Than They Think They Look: 80% of women feel younger than the wrinkles around their eyes make them look. They specifically said crow's feet are more likely to make them look old (35%), tired (17%) or unattractive (17%).
-- Women Are Judging Eye Wrinkles In Other Women: It isn't just self-perception. More than three in ten women think that eye wrinkles make other women look tired (36%) or old (33%).
-- Women Are Seeking to Take Focus Away From Eye Wrinkles: Two-thirds (66%) of women with wrinkles around their eyes have tried at least one tactic to take attention away from their crow's feet.
a. 40% have tried to take attention away by changing their eye makeup
b. 23% have tried to take attention away by changing their hairstyle
-- Women Will Go to Great Lengths to Be Rid of Eye Wrinkles, Permanently: 23% of women would be willing to have grey hair for the rest of their life in exchange for never having a wrinkle around their eyes.
a. 14% of working women would prefer to work forever and never retire in exchange for never having an eye wrinkle.
-- Women Are Willing to Pay to be Rid of Crows Feet: 48% of women would pay an average of $822 to kiss their eye wrinkles goodbye for good.
This survey was commissioned by Palomar Medical Technologies, Inc. and conducted by Kelton Research in February 2012 using an email invitation and an online survey to 542 women. Quotas are set to ensure reliable and accurate representation of the total U.S. female population ages 40 and over. Chances are 95 in 100 that a survey result does not vary, plus or minus, by more than 4.2 percentage points.
About Palomar Medical Technologies
The PaloVia Skin Renewing Laser was developed by Palomar Medical Technologies, Inc., a leading manufacturer of cosmetic lasers for dermatologists and plastic surgeons.
For nearly two decades, Palomar has revolutionized laser skin treatment. In the 1990s, a global team of Palomar laser physicists and esteemed dermatologists began experimenting with non-ablative fractional laser treatments — a new technique that kept the outer layer of skin in place ("non-ablative") and treated only a small portion ("fraction") of the skin with each application of light. In 2000, Palomar filed a patent application on this fractional laser technology and began selling systems to doctors for use on their patients. In 2009, after years of clinical studies, Palomar received FDA clearance for the first at-home fractional laser clinically proven to reduce fine lines and wrinkles around the eyes.
For more information about the PaloVia laser, winner of the 2011 Allure Breakthrough Award, visit palovia.com.
PaloVia Customer Care:
1-866-PALOVIA (1-866-725-8642)
info(at)palovia(dot)com