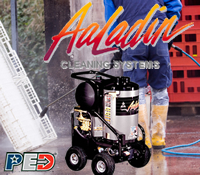 Bolingbrook, IL (PRWEB) April 06, 2012
Today PowerEquipmentDirect.com announced the addition of AaLadin pressure washers.
"AaLadin power washers have been made with the most strict quality control standards for more than 30 years," said Bill Mikenis, resident product expert at Pressure Washers Direct. "AaLadin's dependance on the most high-quality, reliable components and materials assures you're getting one of the best hot water pressure washers on the market."
With the addition of these AaLadin units, PressureWashersDirect.com now offers a wider selection of gas and electric hot water pressure washers.
Pressure Washers Direct has compiled one of the most comprehensive collections of power washers anywhere with more than 300 models available online. As well as pressure washers, the online superstore has built large pressure washer pump and pressure washer accessories departments.
In addition to AaLadin pressure washers, Pressure Washers Direct offers a complete lineup of pressure washers from the nation's leading brands including DeWalt, Generac, Karcher, Pressure Pro, Shark and many more.
Power Equipment Direct operates 10 niche online superstores. The Bolingbrook, IL-based company operates AirCompressorsDirect, ChainSawsDirect, ElectricGeneratorsDirect, LogSplittersDirect, MowersDirect, PressureWashersDirect, SnowBlowersDirect, SumpPumpsDirect, TillersDirect and WaterPumpsDirect.