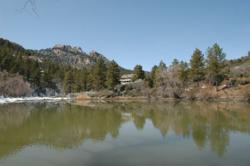 We believe that the auction is the best way to bring properties to the public
Kansas City, MO (PRWEB) April 06, 2012
Buyers have the opportunity of a lifetime to purchase a premier estate, high in the Hualapai Mountains near Kingman, Ariz., about 2 hours from Las Vegas. United Country – Redfield Group of Gadsden, Ala., in conjunction with TIME Real Estate and Development, LLC, will conduct this estate auction event on Saturday, May 5.
"We believe that the auction is the best way to bring properties to the public," said Mike Fisher, president, CEO and auctioneer for United Country – The Redfield Group. "This format allows qualified buyers the opportunity to determine the current fair market value through the bidding process."
Pine Lake Inn is a former bed-and-breakfast. It is situated on approximately 24 acres within view of Aspen Peak in the Hualapai Mountain Range, which can be considered a sky island. Sky islands are mountains that are isolated by surrounding lowlands of a dramatically different environment – a situation which, in combination with the altitudinal zonation of ecosystems, has significant implications for natural habitats.
The Hualapai Mountains remain green year-round. Bear, elk, mule deer, mountain lion, javelina and several other animals can be found there – some only native to the Hualapai Mountain range, including a breed of ground squirrel and tarantula.
The property is being offered in five separate tracts and as an entirety. The main house is located on a tract of approximately 8 acres. A cabin situated on Pine Lake is located on a 4.33 acre tract, and three adjoining tracts of 1.7 to 6.7 acres will be offered separately. This estate rests within close proximity to Las Vegas, as well as Flagstaff, Prescott and Phoenix.
The main house features six bedroom suites on the upper level with their own private bathrooms and balcony access. This floor of the home also holds two sitting areas, a library and a laundry room. There are two kitchens – one with commercial-grade appliances and a walk-in pantry. On the entry level of the home there is a reception area, formal rooms, and a private dining room with lake views.
Adjoining the reception area is the innkeepers' quarters, which feature a living room, a bathroom and balcony access. The lower level holds a finished basement and adds roughly 2,400 square feet to the living space. This area includes a banquet/game room with a dance floor, a full bathroom, an equipped kitchen, a storage room and another laundry room.
The exterior of the home has wraparound porches on the main and upper levels. Spiral staircases provide access between them. A carport with a covered entrance is attached to the home, and there is a three-bay garage for additional storage.
The May 5 auction will be held at 2 p.m. on-site at 6902 Ponderosa Drive in Kingman, Ariz. Registration will begin at 1 p.m. The property will be available for viewing from 10:00 a.m. until 5:00 p.m. daily beginning Saturday, April 28.
Property details, photos and terms and conditions can be found at http://www.RedFieldGroup.com. United Country – The Redfield Group can be contacted at 866-673-9270 or 256-413-0555 for additional information or property showings.
About United Country
United Country Real Estate is the largest fully integrated network of conventional and auction real estate professionals in the United States. The company has been an innovator in real estate marketing since 1925. United Country supports nearly 550 offices across the U.S., Costa Rica, Panama and resort areas of Mexico, with a unique, comprehensive marketing program that includes one of the largest portfolios of property marketing websites (more than 3,000 separate sites and traffic of approximately 3 million visitors per month), multiple United Country real estate catalogs with national distribution , an extensive buyer database and national advertising of local properties that reaches more than 90 million homes per week. United Country has recently been recognized by Franchise Business Review, AllBusiness.com, The Land Report, Entrepreneur and The Wall Street Journal as one of the top U.S. real estate companies.