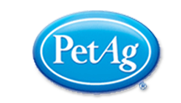 Hampshire, IL (PRWEB) April 10, 2012
Through years of research and education, PetAg is the originator and the worldwide leader in pet milk replacement, giving newborn animals the best start in life. PetAg's line of milk replacers include Esbilac, KMR, and PetLac, as well as milk replacers for foals, wildlife and exotic animals. PetAg not only provides these quality products, they supply information to pet owners and health care providers on the care and feeding of orphaned animals.
PetAg is a one stop shop for newborn pet products. There are 3 tiers of excellent milk replacement powdered formulas for puppies: Goat's Milk Formula Esbilac (GME) the best product for puppies, dogs and other animals, Esbilac for puppies is world renown and the #1 selling milk replacer, and PetLac with pre and probiotics. All of these products supply the necessary nutrients for proper growth and development with 3 price levels to meet the needs of cost conscious consumers. GME and Esbilac also come in a convenient ready to feed liquid formulas.
PetAg has also developed Stage 2 products for puppies: Esbilac 2nd Step Puppy Weaning Food formulated to be easy to digest, full of essential nutrients, and to help wean puppies off milk and on to solid food. Esbilac 2nd Step is the natural progression for transitioning from milk to solid food. New this year to the Esbilac line is the 2nd Step Teething biscuits. Oven-baked with natural ingredients, these are a great addition to a puppy's diet and an additional source of vitamins and minerals for growing dogs.
KMR and PetLac for kittens both provide the essential nutrients needed for growth. KMR milk replacement is a complete food source for orphaned or rejected kittens. It can also be given to growing or adult animals needing a source of highly digestible nutrients. It is the #1 selling infant formula for kittens. PetLac with pre and probiotics is the ideal supplement for kitten owners and is an excellent value as compared to other milk replacement products.
It is essential for infant animals to get the nutrition they need to survive and be healthy. Esbilac, KMR, and PetLac are PetAg's brands committed to quality and the best nutrients for animals to grow and live healthy lives.
PetAg, Inc is a leader in pet product development and manufacturing. Based in Hampshire, Illinois, they offer innovative health and wellness products to pet owners, veterinarians, and other professionals caring for animals. They continue to introduce nutrition solutions for pets, small animals, horses, poultry, swine, cattle, reptiles, birds, and zoo animals.
For more information on PetAg please contact Sara Zaccaro at sara(at)randrmgmt(dot)com
or by phone at 312.715.7272.