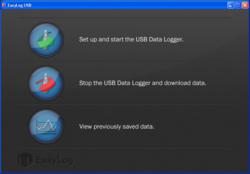 New Hampshire (PRWEB) April 05, 2012
MicroDAQ.com, the largest online provider of Data Loggers and Data Acquisition products in the world, is happy to announce the newest version of the Lascar data logging software; EL-WIN-USB is now available.
The new software retains much of the core functionality that has made it a favorite of users for many years. Aside from a fresh new look, functionality has been improved in many areas.
EL-WIN-USB version 6 is compatible with all Lascar loggers purchased in the last five years and will work on PC's running Windows 7, XP and Vista. Available now, the free software can be downloaded from our website. Click here to view the Lascar product pages on our site.
About MicroDAQ.com, Ltd. – MicroDAQ.com is an innovative provider of compact, portable data logging devices and accessories for advanced data acquisition, communications and analysis. Offering thousands of products from over 30 manufacturers, MicroDAQ services customers all over the world through its award-winning online web site; MicroDaq.com
About Lascar Electronics – Lascar Electronics was formed in 1977 to design and manufacture a range of LCD panel meters. Lascar's range has grown to include an extensive range of panel meters, data loggers and power supplies. Lascar now offer a custom design and manufacture service, bringing together the best of Western design methods and Far-Eastern manufacture to provide our customers with a truly world class service.