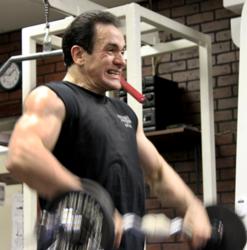 Success is simple, but not always easy.
Oswego, New York (PRWEB) April 07, 2012
Bob Natoli, USA Success Coach, Author, winner of the prestigious Ernst & Young Entrepreneur of the Year Award, and Host of the new reality TV series True Vision 4 Success (based on the book of the same name), has earned a new title from Australia, "King of the Barbell."
Bob earned that title from Men's Fitness Magazine in their April 2012 edition with his 6th Guinness Fitness World Record (the 3rd in less than a year) and he's already preparing for the next one now.
Men's Fitness Magazine awarded Bob his latest accolade for lifting 51,640 pounds in an hour using Barbell Upright Rows, crushing the former Guinness World Record by almost 11,000 pounds!
The True Vision 4 Success techniques Bob used for breaking this record were developed during Bob's journey from selling pumpkins on the roadside as a youth, to founding a successful multimillion dollar business using nothing but hard work, determination, and most importantly, True Vision!
Bob's newest Vision is to assist others in reaching their own goals (even during a bad economy) using his proven True Vision 4 Success techniques. Bob says, "Anyone looking to secure a job, get out of debt, lose weight and many other goals can learn to do so if they follow the simple techniques in my True Vision 4 Success system."
Anyone wishing to create lasting success, energy, and happiness in their lives should purchase Bob's new book True Vision 4 Success online today directly from http://www.truevision4success.com, at Amazon.com, or Barnes & Noble online.