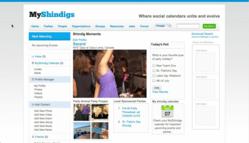 MyShindigs is fast emerging as a strong ally to entrepreneurs and those in the events and party organizing industry...
Boston, MA (PRWEB) April 10, 2012
In today's high paced and fast moving world family and friends are spending increasingly less time together. Social media website MyShindigs has introduced new social tools that help build relationships and unite people together not only in person but virtually as well. The website allows people to play the role of party organizers and promoters and share their events through many channels such as event organization tools and related photography and video content.
While the use of photography and video to document a party or event is not a new concept, it is how these tools are being utilized and archived, as well as the soon to be released new features that will make this social media website an innovative differentiator. 'It is our objective to provide people with the social network, software, and environment to interact more closely and become more engaged with one another. It is time for social networking to evolve and become more relatable to real life and functional in the way people use It.' say MyShindigs co-founders Jason Andrews and Matthew Tautt.
The website offers an all-encompassing party invite format, promotion, and the newly released archive features. Seizing the moment and creating picture or video based memories are key ways to document and remember significant occasions or milestones in one's life, while at the same time sharing these moments with family, friends, and even colleagues. Organizing events such as house parties, birthdays, family reunions, weddings, corporate events, are just some of the ways in which members are using the website. MyShindigs is constantly developing more features that help members organize such parties and events all in one place and with greater ease.
MyShindigs is useful in connecting people with common interests and events. The website brings people together for collaborative efforts with the common goal of making memorable events happen.
MyShindigs has recently launched features that allow party and event vendors to create their own profiles and also allow them to connect with party organizers for the benefit of all. Whether it be a DJ, catering, promotion, or photography services; these new search capabilities allow party and event organizers to locate those who help create a better, well organized and efficiently produced party or celebration for all occasions.
MyShindigs is capturing the attention and imagination of many in the events and promotions field. Two such members are the husband and wife entrepreneurial team of Gary and Sharan Lee-Poy. Gary and Sharan are professional photographers that own a flourishing photography company, Digital Shutterbug. 'MyShindigs has introduced us to some incredible individuals and contributed to an increased client base' says Gary.
'Photography is our passion. We believe that when you do what you love it is reflected in the work that is produced. It is a truly amazing feeling knowing that you're helping to commemorate someone's special day. Our approach is simplistic and hybrid journalistic. Digital Shutterbug strives to capture your moments as they happen so that when you look back at your pictures years later, it will bring back the feelings that you felt that day. MyShindigs allows us to connect with some wonderful people that we would never have met otherwise' adds Gary.
The website allows those who own event and party planning businesses to specify that they are a party vendor. Such profile designation enables users of the site to search out party vendors nearby. MyShindigs Resource and Forum areas allow both party organizers and party vendors to help one another by exchanging useful tips and tools as well as making recommendations in an online community setting and forum.
MyShindigs is fast emerging as a strong ally to entrepreneurs and those in the events and party organizing industries as a special ingredient to bigger and better events through facilitation and collaboration between like-minded people. Digital Shutterbug is one example of the many companies that have benefited from this sharing of ideas and has expanded their social calendars, and their businesses as well.
About MyShindigs
MyShindigs is a social networking platform that specializes in allowing members to plan, organize, manage and promote their public, private and company events and parties. MyShindigs allows users to search out, share, follow and join each other's events and parties of interest to expand their social calendar throughout their lives. For more information, visit http://www.myshindigs.com.