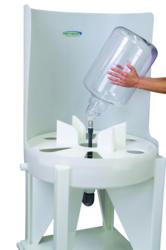 (PRWEB) April 05, 2012
The TerraSpray™ Rinse Station from Cole-Parmer is a cost-effective choice for cleaning all styles of vessels and carboys up to 50 gallons (200 liters). The station connects directly to water inlet and drain—no electricity needed.
Select from countertop or floor models. The countertop model cleans vessels up to 15" in diameter. Operate by the hand-controlled valve on the side of the unit. The floor model cleans vessels up to 19" in diameter. A foot-controlled valve on the bottom platform turns rinse on and off. Both models are easy to use with quick setup.
The units are crafted of a roto-molded polyethylene top panel and fabricated polyethylene base and legs. Valves are made of polypropylene with Viton® elastomers and a Kynar® PVDF-coated stainless steel spring. Spray head is manufactured with PVDF.
For more information, call 800-323-4340 or visit ColeParmer.com/19139.
Cole-Parmer has been a leading global source of laboratory and industrial fluid handling products, instrumentation, equipment, and supplies since 1955. Our product lines, including popular brand names such as Masterflex®, Oakton®, and more, are sold through company-owned customer channel outlets and a strong network of international dealers. We also feature an ISO-17025-accredited metrology lab for instrument calibration and repair. Cole-Parmer responds with excellence to customer needs, and offers application expertise and technical support. For more information, contact Cole-Parmer, 625 East Bunker Court, Vernon Hills, IL 60061. In the US, call 800-323-4340. International customers, call 847-549-7600. Visit us at http://www.coleparmer.com.