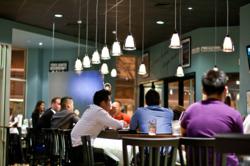 We can't tell you how many people have complimented the design of the restaurant. We wouldn't have gotten this far without your leadership
Reston, VA (PRWEB) April 06, 2012
Synergy Design & Construction, Inc. (dba Synergy D&C) is thrilled to announce the completion of their latest commercial project, a complete original design and build-out for Chasin' Tails Restaurant & Bar in Arlington, Virginia. The new restaurant, owned by local team Dang Seafood, is one of the first venues in Northern Virginia to offer fresh Louisiana crawfish and seafood, and there are plans for additional locations to follow.
"This project was really an exciting one to work on," says Mina Fies, CEO of Synergy D&C. "Our clients were extremely fun to work with. We wanted to create a relaxing space for their patrons, with unique food and great drinks as the focal point. Plenty of TVs give the restaurant a casual feel, and the cool color scheme, lighting, and New Orleans-themed decor add an urban touch."
The restaurant, which occupies the previously-empty Westlee Building corner once filled by Bear Rock Cafe, has its Grand Opening Saturday, April 7th. DC-area good-eats blog "The Hungry Muse" wrote highly about the restaurant the day after its soft-opening last week. Reports blogger Jennie Tai: "You won't find another seafood bar that serves fresh Louisiana crawfish, local beer, original mixed drinks, and other traditional Cajun dishes with multiple big screens around the room, and its' very own hand washing station, anywhere in Arlington."
"Thanks' to everyone at Synergy," wrote Di Dang, Owner of Chasin' Tails, upon project completion. "We can't tell you how many people have complimented the design of the restaurant. We wouldn't have gotten this far without your leadership and organization."
About Synergy Design & Construction, Inc.:
Synergy D&C is an award-winning woman-owned, Class A General Contractor serving Virginia, Maryland, and the District of Columbia. Their mission is to provide outstanding renovation experiences by using their proprietary Renovation Roadmap™, which helps clients understand the design, and plan for the exact costs, timelines, and schedules. Synergy D&C launched at the height of the recession in 2008 and has won several Master Design and Contractor of the Year awards and been featured on HGTV's "Bang for your Buck."
About Chasin' Tails Restaurant:
Chasin' Tails restaurant is the first endeavor of local restaurant entrepreneurs Dang Seafood. The restaurant features fresh broiled Louisiana crawfish – served without utensils in large plastic boiling bags – along with other seafood, beer, mixed drinks, and more. The restaurant, located at 2200 N. Westmoreland Street in Arlington, is open for dinner, as well as late-night for bar service.