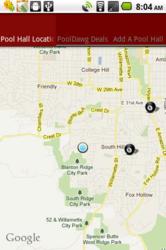 Lafayette, CO (PRWEB) April 24, 2012
PoolDawg, a leading online retailer of pool cues and billiards equipment, is proud to announce the launch of their first smartphone application - HallDawg. This new free app gives pool players the ability to locate pool halls across the United States via their built in GPS functionality.
"Pool halls are extremely important to us and our customers, but they can be hard to find, especially if you're new to the area." said PoolDawg President Michael Feiman. "We wanted to give pool players a free and easy way to find places to play pool. This new application identifies the locations of pool halls and their addresses on a map, showing players the closest places to play. Knowing that our database of pool halls is not exhaustive, we included a means for users to add new pool halls, allowing for constant improvement of the tool".
This app is currently only available for Android based phones. It can be downloaded for free at the Android App Store and requires the use of the phone's GPS system to operate.
About PoolDawg
With over 3,000 pool cues, cases, and game room accessories, PoolDawg is the premier destination for pool players of all levels. PoolDawg offers one of the widest selections of cues, cases and accessories on the web and carries billiards products from over forty manufacturers including Scorpion, Cuetec, Action, Lucasi, McDermott, Schon and Viking and can be found online at http://www.pooldawg.com.
About Balanced-M
Balanced-M is a performance marketing agency that develops mobile applications for retailers. In the past 24 months, six retailers from the Internet Top 500 have chosen Balanced-M for application development on both iOS and Android.