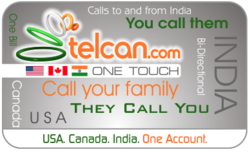 "April is the "Sharing Your Account" month for calls to India and calls from India."
Amar Behura, Vice President
Boca Raton, FL (PRWEB) April 06, 2012
Mr. Amar Behura, Vice President of TelCan.com announced today the emphasis during the month of April of "Sharing Your Account." Although the India Telephone Card was launched in 2012, TelCan.com is already a major provider of a calling card to India. Mr. Behura stated that TelCan.com is the only company that allows a customer to be able to make calls to India from the US and Canada and also make calls from India to the US and Canada. And April is the month to Share Your Account with friends, family and associates in India.
Mr. Behura states that although there are a number of India calling cards on the market, TelCan.com is totally unique in that it is the only calling card to India that from the same account a user can also call from India. No other calling card provides this feature.
In addition to this single account feature, TelCan.com also has the lowest cost calls both to and from India. Their rates are the clearly the lowest rates on the market at 1.5 cents per minute calling to India and 2.5 cents per minute when calling from India. These rates are not low because of add on fees and charges, but because TelCan.com provides clean, no "gimmick" billing practices.
If there is a question on how to call India; or how to call the US or Canada from India, TelCan.com is definitely the answer. And now it can be done from the same account. Share your account with those you are calling in India.
TelCan.com was launched by GlobalTel, which was founded in 1991 by Steve Williams. GlobalTel has been a premier provider of international telephone services for over 20 years. Providing state of the art international calling services with high quality and low prices has always been a primary focus of GlobalTel. GlobalTel is located in Boca Raton, Florida.