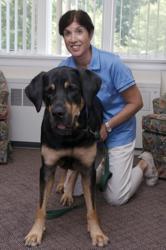 Sarasota, FL (PRWEB) April 06, 2012
Lisa Deutsch of Lakewood Ranch has been appointed Regional Director of New York-based international nonprofit Guiding Eyes for the Blind. Ms. Deutsch will serve as a resource for local clubs and associations that want to learn about guide and autism service dogs.
Ms. Deutsch recently relocated to Lakewood Ranch in December 2011 from Westchester County, New York. Until then she was employed at Guiding Eyes' headquarters as Vice President for Marketing and Development.
"I look forward to meeting new people who might be interested in learning about our mission and hearing stories of courage from our inspiring graduates," said Ms. Deutsch.
"I am excited to now live in close proximity to Guiding Eyes' Floridian blind and visually impaired graduates who are partnered with our world class dogs, and to introduce them to local clubs and associations."
Lisa Deutsch spends her free time with her husband, John, and Labrador retriever, Gizmo. She will be holding special programs throughout Florida and is also available to give presentations to groups and organizations at no charge. Interested persons and organizations may contact her at ldeutsch(at)guidingeyes(dot)org.
About Guiding Eyes for the Blind
Guiding Eyes for the Blind (http://www.guidingeyes.org) is an internationally accredited nonprofit guide dog school founded in 1954. Since its inception, Guiding Eyes has grown to be one of the foremost guide dog schools in the world, known for its cutting-edge training programs, commitment to excellence, and dedication to its elite and superbly trained guide dogs. The school provides professional instruction and follow-up support services to the blind at no cost to them, and is dependent upon contributions to fulfill its mission as it does not receive government support. In 2011, Guiding Eyes launched its One Step Ahead campaign, a fundraising drive to raise $8 million to build a world class puppy training academy on its Patterson, N.Y. property. The new facility and redesigned grounds will comprise a unique campus that will set the standard for guide dog training facilities everywhere. Guiding Eyes for the Blind's Headquarters and Training Center is located in Yorktown Heights, N.Y. and its Canine Development Center is in Patterson, N.Y.