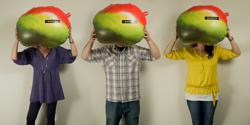 Our mission is to help connect a client's brands to its audience in a way that is simple, human, and relevant. Our strategic approach to staffing will enable us to bring even greater strength to the table.
- Bradley Gast, Partner
Malvern, PA (PRWEB) April 06, 2012
Mangos, a full-service advertising agency, is excited to announce the promotions of Joanne de Menna to Senior Vice President, Strategy and Justin Moll to Creative Director, as well as the hiring of Tracy Rutolo as Account Manager.
Joanne de Menna, Senior Vice President, Strategy
Joanne has acted as Director of Creative and Strategy at Mangos for the past five years. Her ability to make critical observations, in concert with her creative leadership, have helped to turn good campaigns into great ones, while always delivering the strong results that bring clients to Mangos. However, Mangos is increasingly working on large-scale brand transformation efforts with its clients. The shift of Joanne into a full-time strategic role reflects the company's growth and commitment in this area. According to Bradley Gast, Partner at Mangos, "Joanne has always believed that strategy has to be as creative as creative is strategic. She will now be able to focus all of her efforts on maximizing total brand impact for our clients, helping them to develop and sustain a meaningful and defensible point of difference."
In her new role, Joanne will partner with Mangos clients such as Siemens, University of North Carolina, and Main Line Health to create innovative strategic campaigns that help them to not only achieve, but also surpass their marketing goals.
Justin Moll, Creative Director
Justin's bold approach to creative problem solving and ability to turn the ordinary into extraordinary have brought success to a myriad of campaigns. During his tenure at Mangos, he has leveraged his vibrant visions to bolster brands such as Cannondale, Siemens, Firstrust, and The University of the Arts, to name a few.
Justin's success has not just been recognized within the walls of the agency. His work for The University of the Arts was included in the permanent collection of the American Institute of Graphic Arts. He has also received awards from Graphis, Communications Arts, and a national gold ADDY from the AAF.
In his new role as Creative Director, Justin will use his experience to lead a seasoned team of creative talent in developing award-winning campaigns that produce the kind of results clients dream about.
Bradley Gast says, "I couldn't be more excited about Justin's new role as CD. His no-BS approach to creative and strategy brings a freshness that always breaks through the clutter and helps redefine consumer behavior."
Tracy Rutolo, Account Manager
Tracy brings over seven years of marketing expertise and critical day-to-day project management skills to Mangos. Prior to joining the Mangos team, Tracy worked for Lorel Marketing Group, where she managed large-scale, full-service marketing campaigns for national and global accounts, including Amway, Lilly Pulitzer, and Hasbro Toys.
With a strong background in both B2B and B2C, Tracy's diverse experience lends itself to a full gamut of accounts at Mangos. In her role of Account Manager, she will utilize her keen strategic insight and boundless energy to bring a fresh take on all things advertising.
According to Bradley Gast, "Tracy is a natural. She is one of those individuals that can see the strategic big picture as well as the details. Her diverse experience brings serious bench strength to Mangos. I am thrilled to have her on the team."
Mangos
Mangos is a full-service advertising agency, independently owned since 1977. Clients around the world turn to them to make complex business issues simple, human, and relevant. Mangos has earned a reputation for creating award-winning work that delivers proven results.
Samples from the Mangos portfolio can be viewed at http://www.mangosinc.com.
Media Contact:
Jackie Gelman
Mangos
10 Great Valley Parkway
Malvern, PA 19355
610.296.2555
jgelman(at)mangosinc(dot)com