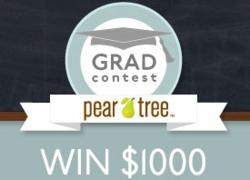 What do you wish you had known on your graduation day?
Mankato, Minnesota (PRWEB) April 06, 2012
Graduation is a time for giving advice, and parents will have one more chance to be heard during Pear Tree Greetings' "If I'd Only Known" graduation contest. "We're asking parents to think back to their own high school days and answer the question, 'What do you wish you had known on your graduation day?'" said Stephanie Bottner, General Manager at Pear Tree Greetings. Along with their words of advice, parents are asked to upload a photo from their own graduation. "I'm really excited to see parents reflect on what they've learned since high school and have fun with the photos."
Contest entries will be accepted through Sunday, May 6, 2012. Entrants must be a parent or guardian of a 2012 high school graduate. All entries will be subjected to a voting period, during which entrants will share their entry with friends and family to get as many votes as they can.
The voting period will run through May 13, 2012, and the top 10 entries will become finalists for 1st, 2nd and 3rd place prizes, chosen by a panel of judges from Pear Tree Greetings.
First place will receive $1,000 in cash, second place will receive $100 worth of graduation product from Pear Tree Greetings, and third place will receive $50 worth of graduation product from Pear Tree.
To enter the contest or to vote on an entry visit http://www.gradcontest.peartreegreetings.com. Contest rules and details are also available on the contest page, and winners will be notified on or before May 21st.
Pear Tree will also be running a weekly Facebook sweepstakes in conjunction with the graduation contest. Sign up and you could win $25 to use on the Pear Tree Greetings website. Winners of the weekly sweepstakes will be notified each Monday from April 9th through May 7th via email.
About Pear Tree Greetings
Pear Tree Greetings celebrates life's sharable moments with its unique collection of personalized, high-quality greetings and stationery made with 100-pound matte-finish card stock. With hundreds of designs for every occasion, available for purchase online for any budget, Pear Tree inspires people to stay connected with friends and loved ones.