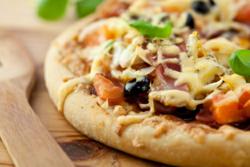 If you can supply a quality product at a reasonable price and quickly, you have every chance of turning a profit
Bristol, UK (PRWEB UK) 7 April 2012
46 new pizza companies were registered in March 2012 topping the previous high of 42 in November 2011. The most popular regions of the UK were Greater London with 17 new pizza companies registered followed by West Yorkshire with 8.
The data is analysed using the naming trends of companies listed on the public register of companies in England & Wales, Scotland and Northern Ireland. Companies House maintains the official registry of new companies.
Pizza as we know it today is commonly attributed to Italian cuisine where cheese, tomato and basil were combined to create the first "Margherita," name after the Queen. Its origins however remain in Greek culture where herbs and oils were used as toppings for bread.
Pizza is well established in UK as a takeaway classic and as a popular fresh or frozen pickup from supermarkets.
Managing Director of Duport, Peter Valaitis, told us: "Selling pizzas is a reasonably safe bet for aspiring entrepreneurs. If you can supply a quality product at a reasonable price and quickly, you have every chance of turning a profit. It's a great product during an age of austerity, as it's cheap to produce, cheap to buy and very tasty. It can be treated as both a commodity and a luxury."
The pizza industry has been under the spotlight recently as the Telegraph reported that certain restaurant served pizzas were more than twice as salty as their frozen counterparts, and in some instances contained more salt than seawater.
Whilst many would argue that our education and appetite for healthier food options continues to grow, this latest company data shows that the UK's love affair with this Italian American classic looks set to remain.
Duport Associates Ltd is a leading UK company formation agent, operating in the UK for around 15 years. Duport registers around 10,000 new companies each year using its Companies House approved software. The Company Register which is maintained by Companies House contains public information about Limited companies and directors.