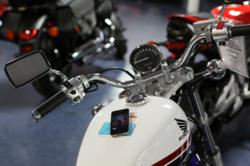 Users of popular devices like the iPhone, iPad or the iPod now have a safe, easy-to-use way to hold their device in place while on the road.
Hartland, WI (PRWEB) April 06, 2012
The Tree Frog Pad is an easy-to-use sticky pad with a unique resin composition that provides an incredibly strong hold on any device placed on its non-slip surface. Used by truck drivers, the environmentally friendly Tree Frog Pad is equally useful to homeowners and others for use on specialized vehicles, including boats, motorcycles, all-terrain vehicles, or lawnmowers.
Like truck drivers, people driving boats, ATVs and motorcycles need quick, comfortable and hands-free access to powerful devices like the iPhone, iPod, iPad or GPS unit while navigating their vehicles. The new jelly pad can be used anywhere, anytime, and is easily removed without damaging surfaces.
One South Florida Boater quoted, "I used to worry about taking my new iPad on the Boat, but Tree Frog's Sticky Pad holds it in place in even in the choppiest conditions". The Tree Frog Pad is the number one sticky pad product for securing the iPhone, iPod or iPad or virtually any device while the vehicle is in movement. The sticky pad's versatility may also be used to hold non-digital items including pens and sunglasses, and, according to one user of the Tree Frog Pad, the sticky pad has been used to hold a drink in place atop his son's play car on St. Patrick's Day.
The Tree Frog Pad is made from an environmentally friendly, synthetic version of the incredibly sticky hydrocarbon secretion that occurs naturally in most plants as sap. Unlike tree sap, the sticky pad never leaves a residue on surfaces it contacts. It does not harm fine furniture surfaces, dashboards or marine vehicle surfaces.
For more information about Tree Frog Pads sticky mats, visit http://www.treefrogpad.com and become a Facebook Fan at http://www.facebook.com/treefrogpad.