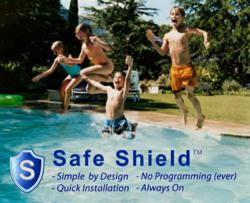 There's no reason for these tragedies to continue.
Tampa, FL (PRWEB) April 16, 2012
Imagine a sunny day at your pool. Everyone laughing and having a great time. Suddenly there are shouts and panic. A child has been trapped underwater. They are pulled out, but only after the pump is manually shut off. The child doesn't make it. Play It Safe Technologies is dedicated to preventing these tragic accidents and is offering free systems to selected, qualifying pool owners.
The system includes an APS 120 Automatic Shut Off System and SDC 600 Super-Duty Drain Cover.
"There's no reason for these tragedies to continue" said Rex Cowan, co-founders of Play It Safe Technologies, Inc. "We created our devices to help bring and end to such senseless killings."
"We've built these devices to incredibly demanding specifications" said Steven Beckham, co-founder and developer of the system. "This system is very high quality and extremely fault tolerant. It shuts the pump off automatically if the drain is blocked. There are no switches, no complications. Our super-duty drain cover is the first line of defense. The pump shut off the second."
Qualifying pools/spas need to meet the following criteria:
1. They are a public pool/spa.
2. They have the need for financial assistance in bringing the pool/spa up to VGBPSA standard (i.e: not-for-profit or "disadvantaged" municipal facility).
3. The pool/spa currently has a suction lift circulation system (i.e.: pump above water line).
4. The pool/spa pump does not exceed 4hp, circulation not exceeding 600 gpm, and underlying intake no more than 12" in diameter.
5. The pool/spa has Gunite construction with flat area surrounding drain of not less than 36" X 36".
6. The pool/spa owner will authorize Play-It-Safe to publicize the Award.
One system will be awarded per month chosen from those qualifying municipal, or non-profit, pool owner/operators located within the United States choosing to apply by letter to the company address:
Play It Safe Technologies, LLC
PO Box 651
Winter Haven, FL 33882-0651
Play It Safe will announce any award made under the Program during the following month via PR Newswire. Applications made, but not chosen during a particular month, will automatically roll over for the next month's consideration. The Program offer is for a limited time only.
Award of the system includes all shipping to the point of installation, plus a $200 Play-It-Safe allowance for the estimated cost of installation (for which owner will be responsible).
More information about the company and its products is available on their website at http://www.PlayItSafeTech/contact.
Safe Shield is a trademark of Play It Safe Technologies, LLC.