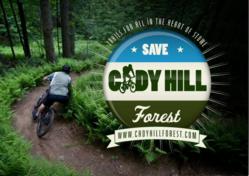 Skiershop.com gives 10% back to support Cady Hill Forest
Stowe, Vermont (PRWEB) April 06, 2012
Skiershop.com, Bikestowe.com, and the Stowe Land Trust, a local organization dedicated to the conservation of scenic, recreational, and productive farm and forestlands for the benefit of the greater Stowe community have aligned to help raise funds for a local conservation effort with Cady Hill Forest.
Located in the heart of Stowe Village, Cady Hill Forest has been providing mountain biking, hiking, snowshoeing, and cross-country skiing for years. However, its delicate permitting doesn't guarantee that it will always be available for public recreation.
The Cady Hill Forest conservation project would allow the Stowe Land Trust to purchase and permanently conserve over 260 acres of land that holds an 11-mile network of trails, beloved by local mountain bikers and the visiting public, and also hosts prime deer wintering habitat along with other scenic vistas.
Every one at the Skiershop.com headquarters is still enjoying corn snow and spring skiing conditions high in the mountains, while the mountain bike season has arrived earlier than ever. The last thing Stowe needs is for it to lose its in-town mountain bike loop, an easy access trail for those who work nearby, and also an integral part of the Vermont Ride Center, a program that is being pursued by the Vermont Mountain Bike Association and supported by Bikestowe.com.
With an additional $450,000 needed by May 30, 2012, Partners Bobbie Roehm and Daniel Burgess of Skiershop.com and Bikestowe.com are donating 10% of the profits from all mountain bike sales from Giant, Scott, and Intense to assist in the endeavor and give back to the riding community. Bikestowe.com is organizing weekly rides where everyone is free to donate to the cause and enjoy a great trail-ride, the group leaves from Skiershop.com at 580 Mountain Road, Stowe Vermont.
For more information regarding the conservation of Cady Hill Forest visit the Stowe Land Trust: http://www.stowelandtrust.org/current/cady-hill-forest-conservation-project/