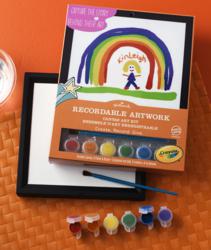 "Hallmark research shows that parents want to preserve their children's stories before the memories are gone forever," said Amy Ferry, Hallmark Product Manager.
KANSAS CITY, Mo. (PRWEB) April 09, 2012
Today, Hallmark launches a new collection of products to make capturing childhood-memories easier than ever. Recordable Artwork gives parents and grandparents the opportunity to encourage a child's vivid imagination through art and document that precious little voice.
"Hallmark research shows that parents want to preserve their children's stories before the memories are gone forever," said Amy Ferry, Hallmark Product Manager. "Recordable Artwork helps them to see the world through their children's eyes."
Four new Recordable Artwork products are available with retail prices ranging from $9.95 to $14.95:
Canvas Art Kit - A child can paint on a square canvas panel, let it dry and then insert the artwork into a recordable 9" x 9" black, plastic frame. The frame holds 40 seconds of recording time, just the right amount to capture the story behind the masterpiece. Complete with six Crayola® washable paints and paint brush.
Art Gift Book - A make-and-give book featuring Hallmark illustrations, verses and the child's own drawings and voice. The frame on the cover holds a special photo and 20 seconds of recording time for a personalized dedication. This 12 page book also includes two removable sticker pages.
Recordable Greeting Cards - Capture the magic of a child's creativity and preserve special memories with these recordable greeting cards. A die-cut frame on the front of each card holds an 8 1/2" x 11" piece of paper so a favorite piece of artwork, award certificate or any other special treasure can be shared. Each card, available in orange and turquoise, features 10 seconds of recording time and also a sticker page for personalization. Two card options are available, "I may be little, but I love you great big!" and "This picture just for you is worth a thousand I Love Yous!"
Magnetic Photo Clips - A fun and unique way to showcase important papers like artwork, certificates and photos, and pair them with a personalized 40 second recorded message. Each magnet clip holds a school-sized 2" x 3" photo and features a bright blue or pink plastic frame.
Hallmark Recordable Artwork is available at Hallmark Gold Crown® stores and participating Hallmark retailers nationwide. Use the store locator on Hallmark.com to find the nearest Hallmark Gold Crown store. For more information visit the Recordable Artwork page on Hallmark.com.
About Hallmark Cards, Inc.
Hallmark makes the world a more caring place by helping people express what's in their hearts and spend time together — a privilege few other companies in the world enjoy. Hallmark greeting cards and other products are found in more than 38,000 retail outlets in the United States, including the network of flagship Hallmark Gold Crown® stores. The brand also reaches people online at Hallmark.com and on television through Hallmark Hall of Fame original movies and cable's top-rated Hallmark Channel. Worldwide, Hallmark offers products in more than 30 languages available in 100 countries. This privately held company is based in Kansas City, Mo., and is led by the third generation of the founding Hall family. Visit http://corporate.hallmark.com for more details.