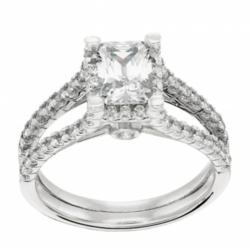 Diamond Nexus has a ring very similar to the ring that Jay-Z gave to Beyonce on our website currently. The Maika engagement ring, ordered with an Emerald cut center stone captures the look of her ring
(PRWEB) April 11, 2012
Diamond Nexus follows jewelry trends closely, and frequently gets customers searching for celebrities' looks when purchasing their inexpensive engagement rings. Now, those celebrity looks can be attained easily with the edition of more customized rings that resemble the latest Hollywood styles of celebrities.
"We have added more rings to this collection which are reminiscent of some of Hollywood's biggest stars. Halle Berry, Drew Barrymore and Beyonce all have amazing jewelry that we are able to replicate at a much more affordable price," stated Kyle Blades, Director of Marketing.
Rings like the one that Halle Berry wears is rumored to have cost five figures. Her ring is in Yellow Gold and holds an Emerald center stone. Customers seeking to own her ring without the exorbitant price tag can now achieve that with Diamond Nexus. For under eleven hundred dollars a similar ring can be purchased with a synthetic emerald stone in 14K Yellow Gold.
Customers have the option with many Diamond Nexus rings of semi-customizing their jewelry, to be set in 14K,18K, Platinum and Palladium. They can also change the size of center stones on peg-head style rings to hold differently shaped center stones. Many celebrities wear engagement rings with extremely large diamond centers, but Diamond Nexus gives customers the chance to create similar styles that are still going to look and feel believable as well.
"Diamond Nexus has a ring very similar to the ring that Jay-Z gave to Beyonce on our website currently. The Maika engagement ring, ordered with an Emerald cut center stone captures the look of her ring with a smaller center stone to keep it comfortable wearing. Beyoncé's ring reportedly cost over five million dollars and our ring with a 1.74 ct. center is under two thousand dollars," commented Blades.
"We even took a cue from film with our Twilight inspired ring, with an elegant pear shaped platform ring encrusted with pave set man made diamond simulants for a modern twist on the antique ring Edward had given to Bella in the movie. It has an elongating effect on the hand so it really compliments any woman. It has a lovely low-profile setting and even if someone isn't a Twilight fan, they will still adore this timeless ring," observed Jennifer London, Social Media Coordinator.
Diamond Nexus was founded in 2004 with the purpose of bringing to the public the powerful benefits of the lab-created diamond simulant revolution. They have over 250,000 customers worldwide that have awarded them an "A+" rating with the BBB, and are the ninth largest online jewelry retailer in America according to the 2011 IR500 list. For two years in a row brides from The Knot have selected them as their Best of Jeweler. Diamond Nexus currently has two retail locations: their flagship store at Woodfield Mall in suburban Chicago, Illinois, and a second store at Mayfair Mall in Milwaukee, Wisconsin. In 2009 the company was named the official jeweler and crown maker of the Miss Universe Organization as part of NBC/Universal's "Green is Universal" environmental initiative.