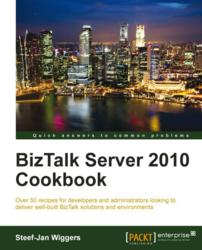 Learn best practices for deploying BizTalk 2010 solutions
Birmingham, UK (PRWEB) April 07, 2012
Packt is pleased to announce the publication of it's lastest BizTalk Server 2010 Cookbook, a book packed with practically proven patterns, screenshots and examples to help the readers enhance their skills with BizTalk 2010. Written by a BizTalk expert and MVP, Steef-Jan Wiggers, this book is enriched with more than 50 recipes will assist in implementing BizTalk solutions.
BizTalk Server is Microsoft's Integration and connectivity server solution that allows organizations to easily connect disparate systems. Connecting core systems both inside and outside an organization, BizTalk also provides strong durable messaging, a rules engine, EDI connectivity, Business Activity Monitoring (BAM), RFID capabilities and IBM Host/Mainframe connectivity.
Professionals and developers can now explore the numerous BizTalk capabilities with the assistance of this step-by-step guide. It also enables the pragmatic use of Business Rules with BizTalk Server and application of SOA patterns.
Allowing readers to broaden their knowledge on implementing BizTalk orchestration patterns and messaging security, this guide will also teach them how to deploy a robust, durable, and performing BizTalk Environment.
Some of the essential chapters comprising of detailed recipes are:
Chapter 1: Setting up a BizTalk Server Environment
Chapter 2: BizTalk Server Automation: Patterns
Chapter 3: BizTalk Server Instrumentation, Error Handling, and Deployment
Chapter 4: Securing your Message Exchange
Chapter 5: WCF Services with BizTalk
Chapter 6: BizTalk AppFabric Connect
Chapter 7: Monitoring and Maintenance
Chapter 8: Applying Rules
Chapter 9: Testing BizTalk Artifacts
Packt Publishing has also released other related titles:

(MCTS): Microsoft BizTalk Server 2010 (70-595) Certification Guide (May 2012)
Microsoft BizTalk 2010: Line of Business Systems Integration (Published)
Microsoft BizTalk Server 2010 Patterns (Published)
Packt Enterprise is a leading publisher of Enterprise books for Oracle, Microsoft, IBM, SAP, Citrix and other technology companies. Packt Enterprise develops books for Architects, Developers, Administrators and End User alike.