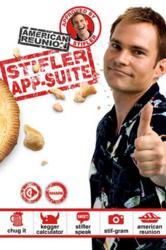 Everyone wants a piece of the Stifmeister!
Hollywood, California (PRWEB) April 05, 2012
Just in time for this weekend's release of Universal Pictures' American Reunion, the new movie featuring the original cast of American Pie, comes the Stifler App-Suite. And as everyone might imagine, the app is jam-packed with everything we've come to expect from this less-than-saintly crew.
Fair warning, this isn't for the easily offended. The Stifler App-Suite is for adults only. Would we really want anything different?
The Stifler App-Suite contains:

Chug It – A fun game that'll teleport users right back to college, as it tests drinking skills! Just try to keep up with the Stifmeister?
Kegger Calculator – Planning the perfect party? Let Stifler help. With this feature, tell the Stifmeister about your boozehound buddies and he'll use a unique algorithm to calculate the amount of alcohol it will take to throw the bash of the year.
Stifler Speak – The raunchiness is just getting started. With this feature, users get to hear from the man himself. This sound board delights with some of Stifler's most quotable one-liners (most that are too adult to publish here). Play, download and share sound clips from the first two American Pie movies. And, yes, that line about band camp and a flute is in there…
Stif-gram – Take a photo from your device, let Stifler add a little American Pie touch, then send and share with your friends.
American Reunion – Did we mention this app is built around the new film American Reunion? With this feature users can watch trailers from the upcoming hit film, browse image galleries, download ringtones and even buy tickets to the movie itself!
For fans of the American Pie films, their zany antics and all the one-liners they have launched into the social lexicon, run, don't walk to download this app today!
About The Film
It was summer 1999 when four small-town Michigan boys began a quest to lose their virginity. In the years that have passed, Jim and Michelle married while Kevin and Vicky said goodbye. Oz and Heather grew apart, but Finch still longs for Stifler's mom. Now these lifelong friends have come home as adults to reminisce about -- and get inspired by -- the hormonal teens they once were.
About NBCUniversal
NBCUniversal is one of the world's leading media and entertainment companies in the development, production, and marketing of entertainment, news, and information to a global audience. NBCUniversal owns and operates a valuable portfolio of news and entertainment television networks, a premier motion picture company, significant television production operations, a leading television stations group, and world-renowned theme parks. Comcast Corporation owns a controlling 51% interest in NBCUniversal, with GE holding a 49% stake.