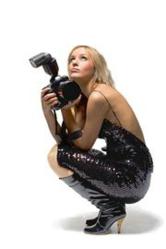 Teenagers don't know where to start in the world of teen modelling, so we thought we'd give them some help.
London, UK (PRWEB UK) 6 April 2012
'Teenagers don't know where to start in the world of modelling, so we thought we'd give them some help.' says Helen Stark, Fashion Editor, UKMA
How to become a model is the question the UK'S biggest online model agency directory get asked more than anything else, according to Helen. Teen models especially, contact the model agency directory daily, seeking help and advice on how they can break into the industry. It's not an easy task, and http://www.ukmodelagencies.co.uk doesn't pretend it is. They pride themselves on being honest and open, offering all the latest modelling news, fashion, tips and tricks of the industry in general.
'We have always received so many questions from the under twenties, so we thought we'd launch a brand new section just for them,' continues Helen.' It may not be what a teenager wants to hear, but we always advise them that research is vital to any model's success. UK Model Agencies pride ourselves on providing all the answers, but we try to do it in a fun way. It still means a lot of work on the teenager's part though.' She went on, 'Like any new job, an employee needs to do some groundwork. There's so much to learn before a young person even considers going any further with a modelling career.'
With a website packed full of model agencies to choose from, UKMA hopes they have all bases covered but Helen says the articles and news on the site are an ongoing project. With sections dedicated to helping parents learn the rules and regulations too, it seems to be a very parent and child friendly website.
'A teenager may have just left school and thinks they have left studying behind them forever, but they need to do some extra work if they want to succeed in modelling,' says James Dawson, Chief Press Officer at UK Model Agencies. 'We know they don't really want to think about doing any more homework, but if it's any consolation kids, your parents need to do some homework too.'
He explains that modelling is not just about being good looking. 'There's a lot more to it than that and in an extremely competitive market, a teenager needs to stand out from the crowd, set them apart for the rest. If they know a few secrets because of us, have learnt the dangers out there before they even approach any teen model agencies, then we'll know we've done our job well and be proud.'
The new teen modelling section has just opened for business and if the response they've received so far is anything to go on, the guys and gals at http://www.ukmodelagencies.co.uk will have a very busy teen modelling Easter.