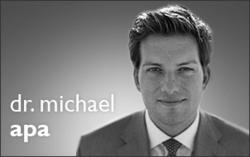 The Rosenthal Apa Group Dentists are at the forefront of groundbreaking use of porcelain veneers to give people perfect celebrity smiles
New York, NY (PRWEB) April 10, 2012
The Rosenthal Apa Group dentists are at the forefront of groundbreaking use of porcelain veneers to give people perfect celebrity smiles. Elle.com sent Melissa Coker to see pioneering New York aesthetic dentist Dr. Michael Apa and benefit from his cutting edge care. A video and the accompanying story were recently posted on the dental practice's blog here.
In the article, Coker claims her smile has been a long-term problem. Her baby teeth persisted into her 30s, making it appear she was missing teeth. . A series of dentists proposed braces, but Dr. Apa was the first dentist to offer a different, modern, more effective approach. The video features Dr. Apa's comfortable, contemporary office and friendly, welcoming manner. It details each step of Coker's smile metamorphosis.
While stereotypes suggest dental work is painful, scary and uncomfortable, the Elle.com video proves The Rosenthal Apa Group is changing that. During Melissa's entire dental smile makeover, The Rosenthal Apa Group insured that her experience was as comfortable, relaxing and enjoyable as possible. Patients enjoy spa-like amenities, including cozy blankets, aromatherapy, soothing lip balms and eye masks. Using state of the art surround-sound headphones, patients can watch movies or listen to their favorite tunes during treatment. This 5- star customer service is legendary throughout the dental industry, and patients flock to the Rosenthal Apa Group from around the world to comfortably experience their legendary smile makeover. For more information or to make a dental appointment with Dr. Apa please contact jackie(at)rosenthalapagrp(dot)com.
About Dr. Michael Apa
Dr. Apa is redefining modern dentistry, combining skillful dental science with a keen artistic eye. Facial Aesthetic Design is his pioneering approach to crafting the perfect natural-looking smile, eliminating imperfections and creating a symmetry that ensures each facial feature works together for a harmonious whole. A graduate of New York University College of Dentistry, Dr. Apa's highly developed sense of style earned him a position as the aesthetic dentist of record for Elite Model Management. His unique expertise makes him a sought-after dental authority, and he has been featured recently in Esquire, Harpers Bazaar and Allure magazines amongst many others and in numerous television appearances, notably Today, Inside Edition, Tyra and on VH1.