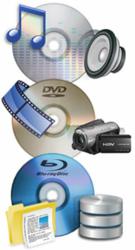 An easy way to burn and share your high-quality, HD videos.
Denver, Colorado (PRWEB) April 09, 2012
NCH Software, the leading provider of audio, video, business and other software utilities worldwide, announced today a new release of their CD, DVD and Blu-ray burning software, Express Burn, which now includes video Blu-ray burning, and expanded DVD authoring features and menu templates. Previously, Blu-ray burning was limited to recording data discs, but this new release also allows anyone with a Blu-ray burner to create HD Blu-ray movies.
"This new release of the award-winning software enables users to use Express Burn's same drag-and-drop features to burn large HD videos," said Greg Ahern, NCH Software's VP of Sales and Marketing. "This enables them to easily share their high-quality videos, which typically are too large to email."
As high definition (HD) video becomes the norm for inexpensive devices such as cell phones and hand held video recorders, users are forced to work with large file sizes. To preserve the highest quality images, burning videos onto a Blu-ray Disc is the best option for storage and sharing of videos.
Already one of the fastest disc burning programs available on the market, Express Burn also recently experienced improvements to its burning process to help ensure fast and efficient burning sessions. Menu templates for DVD authoring are another new addition, rounding out the feature set for the burning of audio, video, data, DVD, CD and Blu-ray formats, which also includes:

Easy-to-use interface with drag and drop support for quickly adding files
All in one creation of both MP3 CDs and Audio CDs, including audio format conversion before burning
Create ISO (computer disc image files) or burn ISO image files to disc
About NCH Software
NCH Software offers more than 80 easy-to-use applications for audio, video, business, telephony, VoIP and more. These software solutions are focused on specific needs, and solving problems, improving productivity for small businesses and consumers alike. NCH Software provides users with the software they need at an affordable price. This approach generates nearly five million unique visitors and three million software downloads per month from the company's website - http://www.nchsoftware.com.