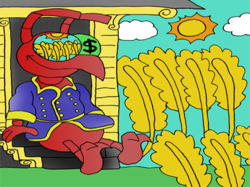 Everyone who tries this software falls in love with it, and we want to give reporters a free way to do the same.
New York, NY (PRWEB) April 06, 2012
Vivid Vocab, a new SAT and GRE vocabulary learning software, has decided to give free subscriptions to reporters and bloggers in the education space. The company hopes to have as many reporters as possible using the software, which uses interactive mnemonic devices and multi-sensory experiences to help students permanently memorize vocabulary words.
"Thus far, user feedback has been great - but we need a lot more of it," says Vivid Vocab creator Anthony-James Green, who has pioneered the effort to get the software in the hands of the educational press. "Interestingly enough, a lot of the parents who buy this software for their children end up using the software themselves. It's an almost universal piece of feedback that we've been getting from our customers. I figured: if adults are enjoying the product, why not give it away to the ones who need to know about it most?"
Green developed Vivid Vocab as a way to counter the "painfully boring" methods of studying vocabulary that most of his students were using. As a career SAT tutor, Green noticed a negative feedback loop surrounding SAT vocabulary words that prevented his students from memorizing them in time for their tests: "Studying plain words on a piece of paper is boring and ineffective in equal measure. Your brain has a tough time memorizing text on its own, and studying stacks of flashcards certainly isn't very exciting. As a result, my students were resistant to studying vocab because it bored them, and because even when they did it, it didn't work. If you're forcing someone to do something boring, they better see an immediate effect; unfortunately, my students weren't seeing any effect at all."
Green therefore set about creating a new way of studying SAT and GRE vocabulary words that was simultaneously more effective and more entertaining for his students. Vivid Vocab is an "association software" - rather than creating an "A to B" connection in a student's brain, Vivid Vocab aims to create a network of associations with words and their definitions which creates a more permanent, vivid memory. For instance, the word "alleviate" features an image of a man with a terrible headache eating the headache medicine Aleve. In the next frame, users see him beaming and looking like he's in perfect health. The association? "The Aleve he ate alleviated his headache." By creating multi-sensory associations based on stories, images, and sequences of events, Vivid Vocab helps students to tie SAT vocabulary definitions into their existing network of memories, which leads to better retention.
Now that the product is launched, Vivid Vocab's owners want influencers in the education space to try the software, review it, and help to make it even better. "Millions of students take the SAT every year, and they're all still using study methods that simply don't work. I think that education reporters should have a vested interest in trying out the product. If they like it, we'd love for them to spread the word. If not, we'd love to hear why so that we can make Vivid Vocab better."
For reporters interested in signing up for their free trial, the process is simple. By visiting Test Prep Authority ( a free SAT and ACT resource center and Vivid Vocab's parent company) reporters can fill out a short form - once approved, they'll get their free username and password within 24 hours. The signup page for reporters is here:
http://www.TestPrepAuthority.com/vivid-vocab-reporter-signup
"I think everyone wants to improve their vocabulary - even reporters and professional writers. At the very least, this is a fun way to do it," says Green of the free trial offering. Reporters wishing to sign up for free trial should use the link above, or they can contact Green directly by filling out a Contact form on the Test Prep Authority website.