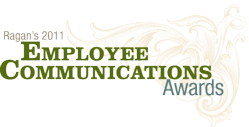 Chicago, IL (PRWEB) April 05, 2012
Ragan Communications, a Chicago-based company that specializes in resources and training for communicators in PR, marketing, health care, employee communications, HR and more, celebrates the winners of its employee communications awards. Ragan received hundreds of entries in dozens of categories including "Best Annual Report" and "Best Intranet Design."
"I was thrilled to see the breadth of creativity and cleverness from this year's winners. I look forward to seeing more outstanding submissions in next year's program," said Mark Ragan, CEO of Ragan Communications.
Judges selected 44 winners from among the entries. The victors included Southwest Airline Pilots' Association for "Best Feature Article (Print Publication)"; Blue Cross Blue Shield of Rhode Island for "Best Design (Intranet)"; Giant Eagle for "Best Annual Report"; Mayo Clinic for "Best Community Building (Video)"; SAS for "Best Community Building (Intranet)"; and Waggener Edstrom Worldwide for "Best Interview (Video)."
"Giant Eagle [the company] and I were both very honored to receive a 2011 Ragan Communications Employee Communications Award. I was especially pleased with the feedback that I received as to why Giant Eagle's Annual Report was selected as the Best Overall Annual Report," said Jennifer Greevy, director of executive and leadership communications and author of the 2011 Annual Report. "It was clear to the judges the report reflected the heart and soul of our dynamic company, our more than 35,000 team members."
Ann Spencer, communications editor of Southwest Airlines Pilots' Association, offered, "It was especially surprising that we received the top honors in both categories that we entered, 'Best Feature' and 'Best HR Publication.' We hope that the Ragan Awards will help showcase our outstanding female pilots and a cooperative spirit of welcome for our AirTran pilot colleagues."
Lauren Yanow, coordinator of the Ragan Awards, said, "Ragan also extends special congratulations to top finishers and honorable mentions, as well admiration for all the talented professionals whose impressive work gave the judges much to consider when selecting winners."
A complete list of Ragan's 2011 Employee Communications Awards winners can be found on the Ragan.com website at http://www.ragan.com/Awards/EC2011AwardWinners.aspx
About Ragan Communications
Ragan Communications operates two of the top news and information sites for the PR and corporate communications industry — Ragan.com and PRDaily.com. Together, these daily news sites attract nearly 700,000 global visitors. The company also covers the health care and HR industries with its daily news HealthCareCommunication.com and HRCommunication.com. The Chicago-based company is also the leading provider of conferences and online training to PR, media relations and corporate communications professionals.