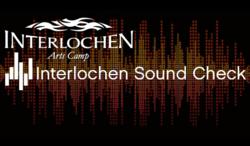 "We hope this contest will shine a spotlight on the amazing talent of today's young musicians."
Interlochen, MI (PRWEB) April 06, 2012
Interlochen Center for the Arts is hosting a Facebook video competition, called Sound Check, for musicians accepted to the high school division of Interlochen Arts Camp. One lucky winner of the contest will receive a full scholarship to a 2012 Camp music program including travel and uniform costs. The contest launched March 15, 2012, and garnered 76 entries. Now, the public is invited to vote for their favorites.
The voting period will last until April 13, 2012. And after just 24 hours, the contest has already received 12,703 total visits with more than 3,600 votes cast. But while only one winner will be crowned, the mission of the contest extends far beyond that. "At a time when music programs are being cut across the country, we wanted to celebrate music and music education," said Kedrik Merwin, director of the music program at Interlochen. "We hope this contest will shine a spotlight on the amazing talent of today's young musicians."
The video contest entries span rock, vocal, flute, cello, saxophone and more, and many of the entrants have submitted original pieces. From silent films to a one-person band, audiences will enjoy the many talented singer-songwriters, musicians and composers, funny outtakes, costume changes, dramatic settings and more.
The Sound Check scholarship was made possible through the support of the president's corporate council at Interlochen. And helping to announce the award were two Camp alumni: Tim Nordwind and Damian Kulash of OK Go. The Grammy Award-winning group earned notoriety for producing dozens of cleverly choreographed videos on a shoestring budget.
To vote for your favorite videos, visit the contest tab on Interlochen's Facebook page at http://www.facebook.com/interlochencenterforthearts. Voting concludes April 13.